Plumbers in general have to face a lot of difficult situations. Oftentimes they are on their knees on a very hard bathroom tile fixing sinks, toilets, and water plumbing issues. This means that there's a lot of pressure on their knees.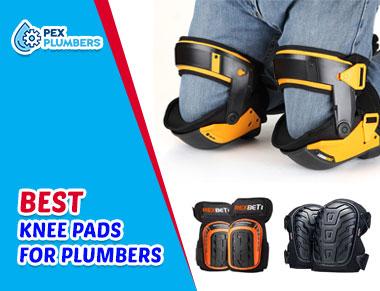 With prolonged exposure to pressure, your knees can become sore, and can also darken in color.
It can cause massive discomfort and health issues if not taken care of properly.
That is why, if you are in this profession, you need the best knee pads for plumbers.
Luckily, there are a lot of different options available in the market right now.
Thanks to advancements in technology and materials, you can get different kinds of knee pads that can help you prevent those dark patches and also keep you comfortable at work.
So without further ado, let's jump straight into our top nine knee pad reviews!
| | | | |
| --- | --- | --- | --- |
| | | | |
| | Plumbers Knee Pads by NoCry | | |
| | ToughBuilt- Foam Thigh Support Knee Pads | | |
| | REXBETI- Anti-slip Foam Knee Pads | | |
| | Sellstrom KneePro Knee Pads | | |
| | CARIB GEAR PRO Heavy Duty Pad | | |
Benefits Of Using Knee Pads While Doing Plumbing Job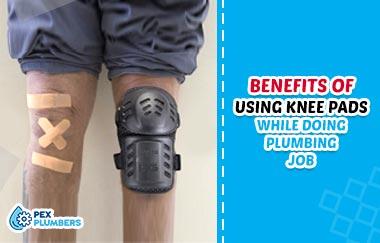 You might have seen a lot of plumbers who don't use knee pads. What does this mean? Can you go on in this job without using knee pads?
What you can and cannot do is totally up to you. But knee pads are mandatory for plumbers because they are on their knees for about 90% of their work time.
Here are a few benefits of using knee pads while you're on your plumbing job.
Comfort
One of the main reasons you would invest in a knee pad is it lets you be comfortable at work. As we have mentioned before, plumbers have to be on their knees for quite a long time.
If you are on your bare knees, kneeling on a hard bathroom floor, there is a possibility of you getting red bruises on your knees. Besides that, at the end of the day, your knees will also hurt a lot.
If you don't put on knee pads, the red bruises can darken and become like a permanent scar on your knees.
Work Efficiency
Plumbers who do not wear knee pads are not able to kneel for longer periods. So, it can be said that using a knee pad can improve your work efficiency!
This is because, when you're wearing it, you will be comfortable at work. You won't be distracted by the pain of your knees pushed up against the hard bathroom floor.
Prevention Of Leg Pain
If you go on for a few days without knee pads, you will see that your knees hurt a little. This pain will go away with rest.
But, if you keep on working on your knees without using a pad, there's a high possibility that this pain will become permanent. You can get injuries, and knee pains that last you for months or even years.
So why invest thousands of dollars in medical bills, when you can spend a few bucks on a good quality knee pad?
Reviews of The Best Knee Pads For Plumbers in 2023
1. NoCry Knee Pads With Foam Padding and Gel Cushion
The first product on our list is this NoCry professional knee pad with a gel cushion.
Protecting your knees from hardwood floors, and keeping them comfortable is the main reason why you would invest in a knee pad in the first place.
This one is capable of giving you premium protection, thanks to its design, safety, and comfort. Inside the pad, is a durable EVA foam padding cushion along with a soft gel core. Both of these combined gives you a very heavy-duty poly shield that is sick, cushiony, and can protect your knees against scrapes, bruises, and even cuts.
Adjusting the knee pad is also quite easy. The adjustable straps are capable of locking the straps in place. Therefore, you won't have to adjust the straps on and on again. You are protected from slipping and sliding during your work.
These straps are ergonomically designed and do not become loose as time passes by. They will hug your knees just right, not too tight, and not too loose. Also, these buckles can be taken on and off quite fast.
When it comes to doing ability, these can be considered one of the best knee pads for plumbing. The 600D polyester mesh is heavy-duty and breathable as well. The nylon thread construction makes sure that it lasts a long time.
Worried about the rivets popping off on your knee pads? Well, you don't have to worry about that anymore. The new design allows the rivets to stay in place.
Highlighted Features:
New and improved metal rivets that do not move.
Adjustable straps that are easy to put on and off.
Straps do not become loose with use.
Durable 600D polyester, and heavyweight nylon thread construction.
EVA foam padding with a soft gel core to keep your knees comfortable.
2. Redbacks Advanced Slide-in Knee Pads
We are always in a hurry when we are at work. The same goes for plumbers. Sometimes, people don't have that much time to put on knee pads. That is why investing in a slip-on knee pad like this one from Redbacks advanced can be a good option.
These are about 20% lighter than their previous model and can give you professional-grade protection.
The knee pads are CE-certified on EN type 2 level 1. Therefore, you can trust these knee pads to give you the ultimate level of comfort and protection.
Made with very soft rubber that's also flexible, these knee pads will fit your knee just perfectly. They have a very thick cushioning to keep your knees from getting bruises and scabs.
Compared to any ordinary knee pad in the market, these last about 10 times longer. They have been tested before distribution, and can support about 250 kg of weight!
Thanks to the ergonomic and readable design, these are very comfortable to wear throughout the day as well.
Taking care of the knee pads is also quite easy. These are super flexible, and washable as well. That is why these can be reused quite a lot.
Highlighted Features:
20% lighter than the previous model.
CE certified construction.
Soft, flexible rubber that fits the knee perfectly.
Provides maximum cushioning for comfort.
It will last 10 times longer than any other knee pad.
Can withstand about 250 kg.
3. ToughBuilt – Heavy Duty Foam Stabilization Knee Pads
Durability is a key factor that you should consider when purchasing knee pads. If you are tired of having to buy replacements for your knee pads on and on again, we suggest that you buy these ToughBuilt heavy-duty pads.
Made from EVA and foam, these knee pads are light and popular for being very durable and resistant. They are made with very high-quality materials and an expert hand that makes these capable of withstanding very hard work environments.
That is why you can use them for a long time, without having to worry about buying replacements.
Besides being very durable, the knee pads are also very comfortable to wear. They can give you stability when you are working on wet slippery floors. You can easily make side-to-side movements, without these getting in the way.
Thanks to the integrated Thai support, your knee is always perfectly centered. This gives you a good form and helps you work more efficiently. Because of the lower platform, your shin is never in contact with the ground. Your ankles are therefore not exposed to pressure.
The cough straps are capable of comfortably holding the knee pads in place. These are not too tight, and won't cut off your circulation. Also, the straps are very durable and do not let the knee pads rotate off your knee.
Highlighted Features:
Keeps your knees centered.
Made with abrasion-resistant 1680D fabric.
It will last a long time.
The fitting is not too tight and does not cut off circulation.
Allows easy side-to-side movement.
Keeps your shin off the ground, and therefore it takes the pressure off your ankles.
4. REXBETI Comfortable Anti-slip Foam Knee Pads
The fitting of your knee pad is quite important. If the knee pads do not fit you well, you will be uncomfortable throughout your work.
For the perfect fit, we recommend investing in these Rexbeti knee pads. These come with four extra extension straps. Each of these straps is 7 inches long and is quite easy to adjust. There are different sizes available. The straps are quite easy to buckle and unbuckle for efficiency.
When it comes to the quality, there are very few brands that can compete with this knee pad. Thanks to the reinforced stitching, and the usage of very heavy-duty and high-quality materials, this knee pad will last quite a long time. It does not lose its elasticity and can give you a proper fit for months.
Besides giving your knees full protection, the thick gel and high-density foam cushion help provide a very comfortable medium on which to rest your knees. This reduces the amount of pressure on your knees and helps you work comfortably for long hours.
There is an exterior Pvc shell that can protect your knees from small stones, nails, and even glass shards. That is why these knee pads can be used for plumbing, gardening, and even construction work.
Highlighted Features:
Extra 4 straps that are 7 inches long.
Straps do not lose their elasticity so easily.
A hard PVC shell protects your knees from stones, nails, and glass shards.
Can be used for gardening, cleaning, and even construction work.
Reinforced stitching and heavy-duty materials make this a very durable option.
5. Carib Gear Pro Anti-Slip Knee Pads For Men
Who doesn't love a product that comes with free stuff? This knee pad from Carib gear provides a free fair of safety glasses and leather gloves with your purchase!
The safety glasses are scratch-resistant and fog-resistant as well.
They are designed to give you better visibility while keeping your eyes safe. Besides keeping your eyes safe from anything that may fly in, it also gives you UV protection. These work-grade professional safety glasses do not cause any optical distortion.
The leather gloves included are also non-slip and have reinforced padding in the palms. This makes a glass durable, abrasion-resistant, and most importantly very comfortable to wear for long hours. The gloves are oil and water-resistant and can give you a better grip.
Now we'll be going to the work knee pads. These are the upgraded 2021 design, that gives you complete protection. The knee pads are used by people from different industries. Carpenters, tactical workers, and gardeners all love this knee pad.
The pad provides a wide area coverage, keeping your knee and tendons protected against scrapes, cuts, and breezes.
engaged with foam, and double gel, the knee pads are very comfortable to wear all day long. The ergonomic design is quite lightweight and promotes free movement.
Highlighted Features:
Comes with free safety glasses and leather gloves.
Promotes free movement.
Covers knees and tendons.
Protects a wide area from scratches, bruises, and cuts.
Made with foam incasing and double gel core for comfort.
6. Sellstrom KneePro Knee Pads
Knee pads that work well don't always have to be expensive. For example, this bear from Shellstrom is durable and affordable at the same time.
There is an exterior layer of a super hard plastic shell that is made to protect you from cuts. It can also keep your knees protected in case there are small stones or nails on the ground. These exterior layers are made with a very hard plastic layer that is strong and also durable.
But, the plastic layer does not make wearing the knee pads uncomfortable. They allow free movement and do not put much pressure on your knees.
There is a soft triple layer of 3/4 inch thick foam pad. This is a very soft cushiony layer that your knees can rest on when kneeling. The foam is quite flexible, and will not give in easily. Therefore the pair can be used for quite a long time without needing any replacement.
The elastic straps are quite soft and positioned above and below the knee. They also come with a speed clip for quick attachment. The straps are adjustable and very easy to work with.
There is a metal rivet hinge that offers flexibility. The hinges are placed tactically so that they don't bother you when working. The unit is also non-marking, and therefore does not leave any scratches on the floor.
These knee pads are unisex and can be worn by men and women both.
Highlighted Features:
A super-hard plastic outer layer keeps knees protected from cuts and scratches.
The metal rivet hinge gives flexibility.
Soft elastic straps are positioned above and below the knee with a speed clip.
Easy to adjust straps.
Unisex design.
Three layers of 3/4 inch thick foam for comfort.
7. COGURD Professional Gel Knee Pads
Plumbing means working in areas that are often flooded with water. Most of the time, the uniforms are worn by plumbers are waterproof. Therefore, the knee pads should also be waterproof.
These knee pads from Cogurd are made to protect your knees and your uniform from water. There is a waterproof shield that makes this the ideal choice for both indoor and outdoor plumbing work. The waterproof feature also makes this an ideal option for gardeners.
There is a three-layer batting system that includes a layer of gel cushion. This layer is very soft and cushiony and can make your knees comfortable when working.
When it comes to fitting, there are adjustable hooks and loop straps that make sure you can get the right fitting on your knee pad. These straps are quite easy to adjust, and not complicated at all. Wearing the knee pad is quick and easy.
The unit can help get you a better grip and can prevent you from slipping on the floor. It has stabilizing capabilities that can keep you protected at work.
Highlighted Features:
Easy to work with hook and loop straps.
Very durable reinforced stitching.
Stabilizing capabilities to help give you protection during work.
Three-layer layer protective system that keeps your knees comfortable.
Extra two pieces of hook and loop tapes.
8. NoCry Professional Knee Pads
When kneeling, it is important to protect your shins as well as your knees. This product from NoCry protects both. Created for comfort and safety, the kneeling pads are very soft. They are made with a supportive EVA foam, and also include a layer of gel padding.
On the outside, there is a hard plastic PVC cap that protects your knees from nails and stones on the floor. The hard and soft layers come together to give your knees and shin the ultimate protection.
Designed to be tough and durable, these knee pads can be used every day. Because they are made with very heavy-duty nylon threads, and also include constructions made with heavy-duty 600D fabric, you can count on these knee pads to last a very long time. The outer PVC layer is also quite thick, and durable.
The straps on this unit are double layered and have a special military-grade attachment design. Therefore, they can easily be clipped and unclipped. The straps stay put in position and do not become loose as time passes by. Therefore, your knees are perfectly positioned in the knee pads all day long.
This brand takes fitting quite seriously. The two-layer system on the knee pads makes sure that you are comfortable throughout the day. The straps will not move, no matter what kind of job you are doing.
That is why gardeners, landscapers, cleaners, welders, and of course plumbers love these protective well-fitted knee pads.
Highlighted Features:
Straps are easily adjustable and easy to wear.
Comes with a unique two-layer strap system to keep the knee in position.
Protects both knee and shin.
Made with very durable construction of 600D fabric, heavyweight nylon thread, EVA foam, and gel inner padding with exterior PVC plastic cap.
9. Knee Pro Ultra Flex III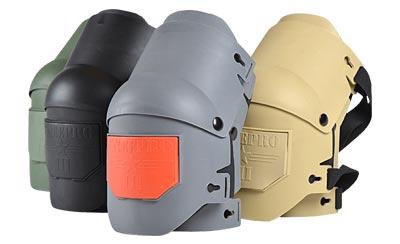 Lastly, we have these plumber knee pads from knee Pro. These are known to be very flexible, multifunctional, and also comfortable.
One of the main features that we like about this knee pad is that it is designed for ease. The clips for adjustment are quick snaps. Therefore you can easily put them on and remove them.
There are hinged metal rivets that help you move freely. You won't even know that you're wearing knee pads! The rivets have been placed above and below for comfort. They are not placed behind the knee and therefore won't bug you during work.
The multifunctional design gives you support and comfort. There is a layer of flexible and strong plastic cover that goes from well above your knee to well below. This is so that the area around your knee is also protected.
The Knee pro ultra flex III is also indestructible. The pads are made to last. There are non-marking grip strips on the side of the pads that prevent putting marks on floors.
To give you additional support, there is a half an inch of closed-cell inner foam that covers the inside of the pad.
Highlighted Features:
Multifunctional knee pad that protects your knees and the area around it.
Comes with non-marking grape strips to prevent putting marks on hardwood floors.
Designed for ease- easy to take off and wear.
Hinged rivets are placed on top and down parts of the knee; not behind.
The Interior has a layer of half an inch of closed-cell inner foam for additional support.
Buying Guides For The Best Knee Pads For Plumbing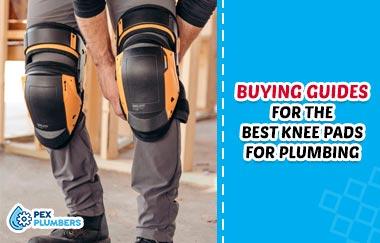 So you're convinced that you need to buy a knee pad. But which one should we invest in? There are a lot of different options in the market. They can confuse you easily.
Here are the few factors that you should be looking out for when choosing a knee pad for yourself.
Straps
The straps on your knee pad should be adjustable. Otherwise, the knee pad won't be one size fits all.
Different people have different knee sizes. Because this is not common apparel, the size of one's knee is not given much importance when making knee pads.
But, if the knee pads don't have adjustable straps, there is a possibility that the knee pad will be too tight or too loose on you.
A knee pad that is too loose will cut off your circulation, and make you more uncomfortable.
On the other hand, a knee pad that is too loose will fall off and will need constant adjustment.
Adjustable straps will help you adjust the size of the knee pads according to the size of your knees. This way, you can stay comfortable all day long, without having to adjust the pads.
Try and get your hands on a knee pad that has a hook and loop fastener. Velcro will also work.
Cushioning Material
This is the most important thing that you should look for when shopping for knee pads.
The cushioning material is what is going to protect your knees and keep them comfortable. knee pads are made with materials such as EVA, nylon froth, plastic, and carbon fiber.
If you are shopping for knee pads physically, give the pads a good squeeze to understand if they are soft enough for your knees.
Protection
You should only purchase a knee pad that is going to give you maximum protection.
That is why a pad that has thick padding and is durable will be better for you.
Thin pads won't be a good option because they will not give you support for a long time. They are also not capable of absorbing pressure from your weight like thick pads.
Comfort
You are probably going to be wearing your knee pads for a very long time. That is why comfort is such a huge factor to consider before you make a purchase.
The knee pad that you purchase should not be too heavy on your knees. It should feel like you're not wearing anything.
There should be more than enough foam padding to support your legs for long hours without causing you any discomfort or pain.
Durability
Knee pads are made out of some sort of foam, or carbon fiber. With use, the elasticity of the material will deteriorate.
Having to purchase a knee pad on and on again can be quite expensive. That is why you should find out a pair with durable cushioning material if you want your knee pads to last a long time.
Types Of Plumber's Knee Pads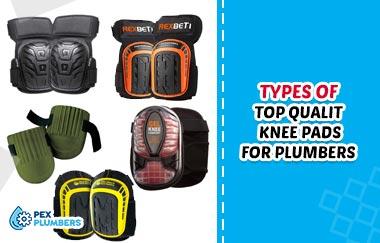 There are different styles of knee pads to choose from. Here are a few common types of knee pads. You choose one that fits your needs.
1. Hard Cap Knee Pads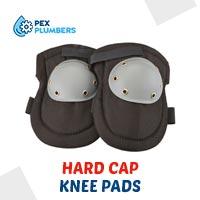 These knee pads are great for use on softer surfaces. So, if the bathroom or the room that you are working in has carpeted floors, a hard cap knee pad will be the better option for you.
The hard caps will help you get more balance and will prevent you from slipping and swiveling on the floor.
2. Flat Cap Knee Pads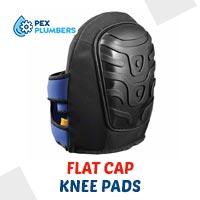 Flat cap knee pads are the most common kinds of knee pads available in the market. These give you stability and are great for use if you don't have to move around too much. You can kneel on any kind of floor when using this kind of knee pad.
3. Curved Soft Pads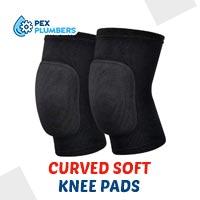 These pads can be used on any kind of floor. They have a hard exterior shell that keeps you from falling and gives you stability. These are also quite comfortable to wear and do not scratch the hardwood floor.
Frequently Asked Questions
1. Are Knee Pads With Velcro Straps Good?
Yes, velcro straps are the easiest straps to use. These will save you a lot of time. But, the straps are known for becoming a bit tough as time passes by. Velcro straps might stretch out the elastic, and make the knee pads too loose.
But velcro straps are still better than elastic or non-adjustable straps.
2. Can You Use A Hard Cap Knee Pad When Kneeling On Tiles?
It is advisable not to use hard cap knee pads when working on tiles. These pads work better if you are on a soft surface. They prevent you from slipping.
If you wear these on hardwood floors, you will be more uncomfortable as it is going to put a lot of pressure on your knees and is going to cause pain.
3. Do You Wear Knee Pads Over Or Under Your Uniform?
Knee pads are better if worn over your uniform or your pants. If you wear the knee pads under your uniform, they won't be able to give you stability. The knee pads might also become slippery if one is under the pants.
4. How Long Will A Knee Pad Last?
Knee pads have elastic materials in them. The straps, and even sometimes the material inside are quite elastic. So with prolonged use, a knee pad is bound to get stretched out.
Depending on the amount of time used, any pad will last a few months.
Final Word
As a plumber, who will be spending a lot of time on their knees, you should be investing in a good quality knee pad.
These things don't cost much but can give you extreme comfort. Even if you feel like you can go on without having to use a knee pad, trust us, you will regret not using one in the future!
Lucky for you, nowadays there are a lot of knee pads available for purchase. We have listed the best knee pads for plumbers for you to choose from.
Every knee pad that we have added to our list is great in comfort and quality. Therefore, you can expect these knee pads to keep your knees happy for quite a while.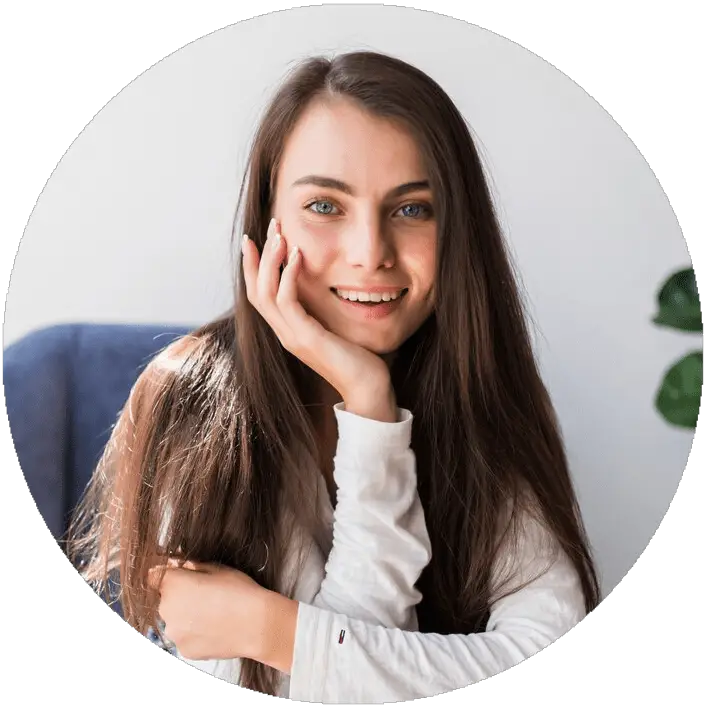 Hey! I'm Leanda Bailey. I'm here to explain every plumbing installation and repair you may have in your kitchen or bathroom. Also, I'll try to find you the best products on the market for your plumbing work.