Have you ever had a situation where water from the drain was getting back into your sink? Or maybe odors escaping into your house through the sink? I can't even begin to tell you how frustrating that can be.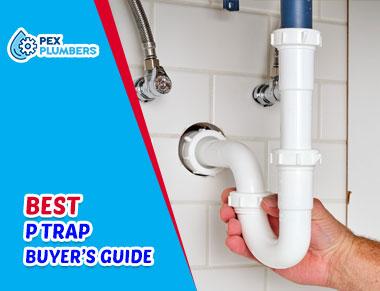 But tell you what? With the best p trap, you can solve the issue entirely.
A good p trap that is installed properly creates an excellent seal and prevents water and smells from flowing into the sink.
There are many choices on the market – plastic, metal, rubber, flexible, stiff, and so on.
In this article, I will help you identify the type that works for you as well as the correct size. Moreover, I will introduce to you some great options you can select.
Let's get started.
| | | | |
| --- | --- | --- | --- |
| | | | |
| | EasyDrain Expandable & Flexible P-trap | | |
| | PF WaterWorks Flexible Universal P-Trap | | |
| | Snappy Trap Drain Kit by Coflex | | |
| | Simple Drain-Flexible Rubber P-Trap | | |
| | Air Admittance Valve Trap Assembly Kit with Tuuber Vent | | |
Things to Consider Before Buying P Trap for Sinks and Bathroom
It can be a little tricky to know the p trap for your plumbing system, especially if you're doing the installation/reinstallation for the first time. But tell you what? Knowing the correct unit is as simple as considering the following factors.
Relevant post >> How Long Does Pex Piping Last
Material
The first thing you need to think about is the material. Usually, there are three choices – plastic, rubber, and metal.
Metal is the most durable of the three, but it is also inflexible and harder to install than the rest.
To pick the right material, check the existing plumbing fixtures on the drain pipe. Be sure to use the same material that is in the fixtures. For instance, if plastic fixtures are used, use a plastic p trap.
When it comes to looks, metal p traps are the way to go, especially the chrome-plated brass types. These have a nice chrome sheen that makes the whole installation looks nice and classy.
Flexibility
If you're doing the installation in a tight space, you're better off with a flexible p trap pipe, ideally made of rubber or a plastic-like polypropylene. Such a unit can bend and fit tight spots more comfortably.
Flexibility is also good in the sense that it works better to prevent leaks. When the pressure increases, the pipe will expand instead of breaking or bursting.
Another advantage of flexible p traps is that they are extendable. You can extend or draw back the trap to suit the available space.
Size
P traps come in two popular sizes – 1-1/4 and 1-1/2 inches. The 1/1-4 is commonly used for bathroom sinks while the 1-1/2 is often used for kitchen sinks. Please keep that size difference in mind before you make your purchase.
Again, be sure to check the length of the trap. For instance, if the distance between your sink and drain is large, then you need a long trap that can connect to both ends. Again, if it's a short distance, there is no need of getting an overly long p trap that leaves a slack.
Relevant posts >> How To Bend PEX Pipe: Best Way Discussed [With VIDEO]
Where Can P Traps Be Used?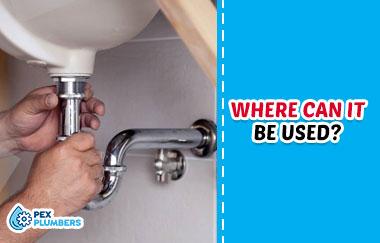 A good number of p traps can only be used with bathroom sinks. Such units cannot be used in the kitchen because if solid items like food remains are put through them, the p traps end up getting blocked.
If you want a p trap that you can use with disposal, go for a strong, solid unit with a smooth interior. A smooth interior helps the solids move without getting stuck.
Our Top 7 List of The Best P Trap in 2023
1. Expandable & Flexible EasyDrain p trap
If you're looking for the right p trap for problem sinks, the EasyDrain Ref. 510 Expandable & Flexible 1-1/2″ may be exactly what you need. This unit is easy to use and it works seamlessly.
One of the reasons why people love this is the flexibility. The trap is more flexible than anything you can find at Lowes, which makes it effective and easy to install. Both ends of the pipe can be identical, meaning either end can function as a tailpiece.
In its closed position, the trap has a length of 10.25 inches. When extended, it goes up to 28 inches long.
Assuming the drain from the wall is too high for the sink, the standard trap may not help. In such a scenario, you may need to rework the plumbing, a quite tiresome and time-consuming process.
However, because of its big extended length, the Easydrain trap can be very useful. With it, you don't need to rework the plumbing at all. Therefore, you save time and energy.
Do you have a sink with a tight angle or a bad corner that makes it hard to install a p trap? The Easydrain's flexible body makes it easy to install in such places. It will bend without much effort, and even if the sink and drain don't line up well, the trap will work.
Before you purchase this item, realize that it is not meant for drains that take solid wastes like food. This is only for sinks meant for hand-washing, meaning it is ideal for bathroom sinks.
Highlighted features:
Made of good-quality PVC material for longevity.
Complete with 2 female 1.5-inch threaded nuts.
Flexible with a total length of 28 inches when extended.
Installs easily even in tight corners.
2. PF WaterWorks PF0704 FlexTRAP Flexible, P-Trap
If you've ever bought a p trap that failed to fit on your plumbing fixtures, you might be a little worried when buying a p trap. The PF WaterWorks PF0704 FlexTRAP Universal Fit is made for people like you.
Whether your sink drain is 1-1/2 or 1-1/4 inches, the p trap will work. Its universal fit design features enough flexibility to make sure it's a fit for sink drains in that size range.
One of the things that people love about this unit is its practical design. It has a nicely shaped p that works efficiently to keep gases and fluids from flowing back into your sink. Moreover, part of the body has an accordion design.
That way, the pressure gets accommodated. Instead of breaking or leaking due to increased pressure, the pipe expands.
One concern about this p trap is the thin plastic it is made of. You can even see the water flowing through it. On the brighter side, the material doesn't seem fragile or overly cheap.
Another great perk is that the trap is easy to install. You don't actually need tools and the unit easily fits tight spaces. Moreover, it comes with reducing gaskets to help you tweak the diameter to suit your plumbing fixtures.
Highlighted features:
Universal fit that works with different sink drain sizes.
Flexible, and thus suitable for tight spaces.
Features an accordion design that extends from 10 to 13 inches.
Comes with accessories – reducing gaskets and nuts.
3. Snappy Trap 1 1/2″ Drain Kit for Single Kitchen
Clogging is a major setback of p traps. When you run solids such as foods through some traps, the solids get stuck and block the path, creating drainage issues. But what if there's a unit built to avoid clogging?
That's what the Snappy Trap 1 1/2″ Drain Kit for Single Kitchen is about. The unit features a very smooth interior that lets its contents flow easily. The chances of clogging are pretty low.
For that reason, the item is the best p trap for kitchen sink. You can install it under disposal and dishwashing sinks alike. Maybe you're looking to install the p trap in a constricted space underneath your sink.
In that case, you need a unit that features a space-saving design. You'll find the Snappy trap quite fitting. It easily installs in different spaces, including tight ones, thanks to its flexible body.
Something amazing about the installation is that you get everything needed to attach the drain assembly to the outlet. That includes gaskets, seals, and more. The problem with most p traps out there is that they are not well made.
They are flimsy with see-through plastics. What makes the Snappy Trap unique is that it features quality construction. It is made of a thick and solid plastic material that lasts.
Highlighted features:
A smooth body that prevents clogging.
Flexible design that makes it easy to install in all spaces.
High-grade seals that keep leaks at bay.
Used kitchen sink p trap and disposals.
4. Simple Drain-Flexible Rubber P-Trap
Do you have a 1-1/2 or 1-1/4 male drain on your wall? If you need the ideal p trap for it, then the Simple Drain-Flexible Rubber P-Trap would be a great buy. This item works like a charm and from the way it is designed, installation is a piece of cake.
The first thing I love about this unit is the flexibility. If you've used the hard plastic traps, you probably know how hard they are to install. Getting them to stop leaking can also be a painful endeavor.
Now, this flexible trap is here to solve all that. Its flexibility makes the p trap easy to install even in situations of tight space constraints. The unit is made of rubber, and you know something amazing? It is heavy and thick enough not to kink up. Yet, it effortlessly bends into a perfect p trap shape.
You get an adjustable plastic clamp along with the p trap. By applying the clamp to the lower curved end of the trap, you get to maintain the p shape.
If you don't have great plumbing skills, you might be anxious about doing a p trap installation. But with the Simple Drain-Flexible Rubber P-Trap, I assure you that the process will be easy and quick. You can install it in 5 minutes and there'll be no leaks.
Highlighted features:
Made of a heavy plastic material that lasts.
Flexible, making it easy to install.
Extends up to 28 inches to fit your space.
Versatile – works with both 1-1/2 and 1-1/4 sink drains.
5. Air Admittance Valve Trap Kit with Tuuber Vent
When doing a p trap installation, you definitely want these three benefits: no odors, no leaks, and good drainage. The reason why I would recommend getting the Air Admittance Valve Trap Assembly Kit is that it offers all three benefits.
This unit is made of hard plastic and it is sturdy enough to last years. If you're looking for the best p trap, you'll find this p trap quite fitting.
The trap is manufactured to fit 1-1/2 inch piping. As you'll see, the unit comes with superior sealing capability, whereby the sealing power is almost twice what other p traps provide.
How does that work? The item features a dual sealing air admittance valve that works effectively. This valve, which has a patented innovative design, excellently prevents sewer odors from escaping into your home.
Because of its superior design, the unit's usability is quite versatile. You can use it either in the kitchen or the bathroom with great results.
The only issue with this p trap, perhaps, is that it is a bit difficult to install. You may need about 30 minutes and some elbow grease. However, as mentioned, the unit works better than almost anything else you can install p trap under the sink.
Whether you're looking to install the p trap in your bathroom or kitchen, the looks matter. You'll be happy to see that the Air Admittance p trap is made with aesthetic value in mind. It is a nice white item with an elegant shape that looks good in any space.
Highlighted features:
It comes with the accessories needed for installation.
Works like a charm to prevent odors from entering the house.
Features a patented valve design with improved effectiveness.
High-quality material that lasts and doesn't leak.
6. Plumb Pak Keeney Plastic P-Trap with Reducing Washer
Do you want a simple p trap design that is super easy to install? The Plumb Pak Keeney 400WK is the way to go.
This unit comes with slip-joint connections, making the installation an easy and quick task. With these connections, you don't need to struggle to cut the pipes to a precise length. The washers and nuts also make adjustments and removable hassle-free.
One impressive thing about the manufacturer is that they recognize there are two common pipe sizes, 1-1/2, and 1-1/4 inches. In that regard, the package comes with reducing washers, enabling you to use the p trap with either of the common pipe sizes.
Durability is one of the awesome aspects of this item. Speaking of that, you may have come across, even used flimsy p traps that leaked and failed to work. That was a problem with the construction.
This p trap is different in that it is well-made. Manufactured in the USA using polypropylene, the unit is lightweight, yet strong and durable.
Highlighted features:
Made of polypropylene, a sturdy and lasting material.
No need to cut pipes as it comes with slip joints.
Easy to install and the process is quick.
Comes with accessories needed for installation like nuts and washers.
The inlet size is adjustable from 1.25 to 1.5 inches.
7. Chrome Bathroom Basin Sink Bottle Trap By Ecoartheating
Are you seeking the best bottle trap to install under your kitchen or bathroom sink? Try the Ecoartheating Chrome Bathroom Basin Sink Bottle Trap. It is excellently suitable for prop-up wastes, basins, and bathroom sinks.
You can use it with pedestals and vessel sinks or under mounts. The bottle trap is a versatile unit that works with and without overflows. This is a metal bottle trap made for 1-1/4 and 1-5/8 inch sink drains.
The first thing that attracts you is beauty. It's a chrome-finished unit with an attractive sheen. Whether you put it in the kitchen or the bathroom, the trap's elegant finish will definitely brighten the space.
But this item is not just made for looks. It is also made to last. Made of zinc alloy metal, the trap is strong and durable. Apart from that, the finish is applied in multiple layers to boost its longevity. If you want a metal trap that resists tarnishing, scratches, and corrosion, this is it.
Another fantastic benefit is that when you install this unit, you won't need to stress about leaks anymore. A high-grade brass apron is used to ensure there is no leakage and that odors do not get into your house.
Installing the Ecoartheating Bottle Trap is not very quick, but it is not complicated. With the right tools, you can do it in about 20 minutes. Then again, you get a set of clear instructions.
Highlighted features:
Very durable as it is made of a zinc-alloy metal.
Made with environmental conservation in mind – it is lead-free.
Complete kits with drainage parts included.
Installation is easy and no special tools are required.
It seals the water effectively and prevents leakage.
Attractive with a beautiful chrome finish.
Top 7 P Trap Comparison Chart
| | | | | |
| --- | --- | --- | --- | --- |
| | | | | |
| EasyDrain Flexible P-trap | | | | |
| PF WaterWorks FlexTRAP Universal Fit | | | Kitchen, rv, and bathroom | |
| Snappy Trap Drain Kit for Single Kitchen | | | Kitchen, bathroom, bar, rv | |
| Simple Drain-Flexible Rubber P-Trap | | | Kitchen, bathroom, salon, rv | |
| Air Admittance Valve Trap Assembly Kit | | | Kitchen, bathroom, salon, bar, rv | |
| | | | Kitchen, bathroom, salon, bar, rv | |
| Chrome Bathroom Basin Sink Bottle Trap | | | Kitchen, bathroom, salon, bar, rv | |
Frequently Asked Questions
1. What is an ideal material for P-trap?
There are three common materials for p traps – metal, plastic, and rubber. Rubber and plastic are loved for their flexibility, which makes them the easiest material to install.
Plastic is generally cheaper than the rest, while metal offers unmatched durability and beauty.
2. What is the correct p-trap size to get?
There are two sizes to think about – the diameter and the length. Look for a size that matches your sink and drain, and the distance between the drain and the sink.
If you're installing it under a bathroom sink, the right size is likely 1/1/4, and if it is a kitchen sink, the correct size is probably 1-1/2.
3. How do p traps work?
A p trap gets its name from the p shape that is formed at the lower end between the vertical pipe from the sink and the pipe entering the drainage. The purpose of the p shape is to keep the fluid from flowing back into the sink.
Moreover, it keeps the foul gases from the sewer from getting into the house through the sink.
4. Which one is better plastic and metal p-traps?
Metal p traps are superior to plastic ones because they resist heat a lot more effectively. Because of their heat-resisting capability, metal p traps are better for kitchen installations.
The hot water will not cause damage to the trap. Another reason why metal traps are better is that they look more presentable.
5. Is a p trap better than an s trap?
The whole idea of traps is to create a water seal. When it comes to that, p traps are considered more effective. If you're wondering which one to install, go for p traps.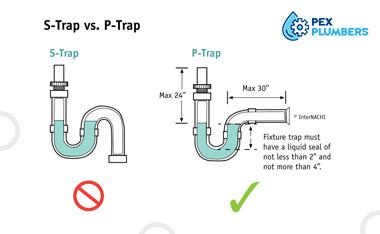 Final Word
Before you purchase a p trap, think about the material, size, function, and the other factors we discussed above. Metals like zinc alloy with chrome plating work great because they resist heat and last ages.
Plastic and rubber, on the other hand, are more affordable. If you're working in a limited space, a rubber unit might be the best p trap to get because of the flexibility it offers.
Importantly, be sure to get a size that matches your sink drain.
Over to you now. The items in the reviews above were selected carefully, and they provide useful benefits like ease of installation and effectiveness in sealing the water.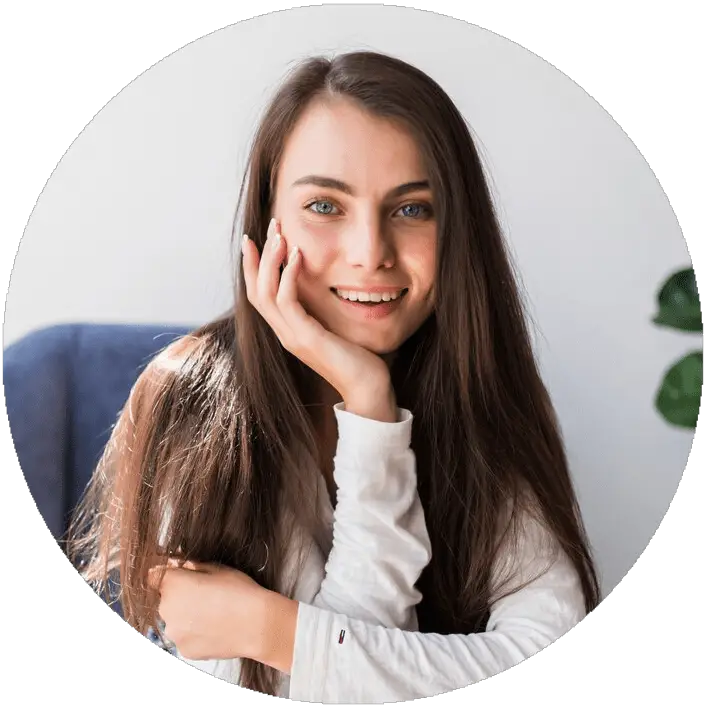 Hey! I'm Leanda Bailey. I'm here to explain every plumbing installation and repair you may have in your kitchen or bathroom. Also, I'll try to find you the best products on the market for your plumbing work.