If you're someone who wants to get the most out of PEX pipes in your home, you're in the right place!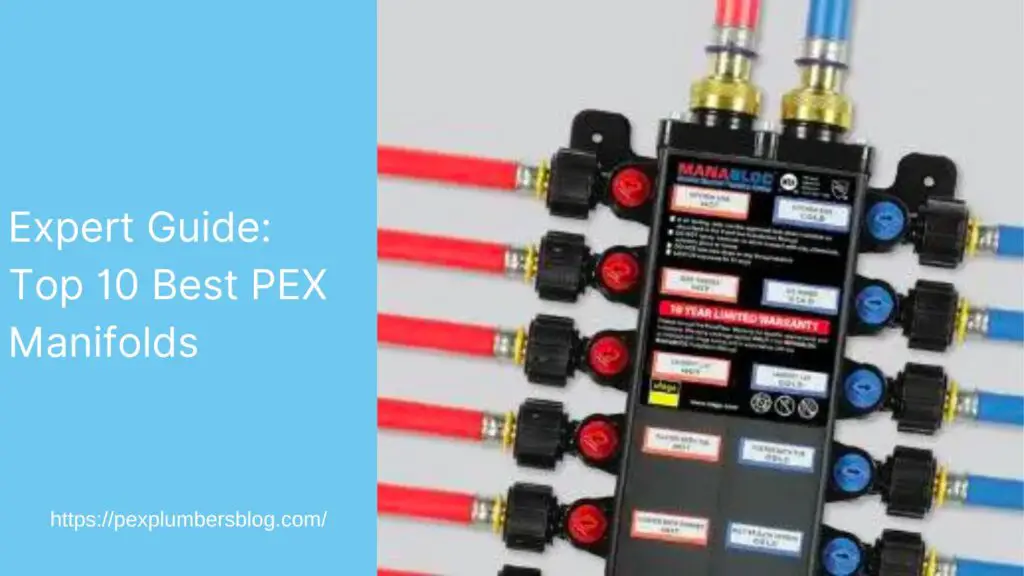 As you know, PEX pipes have been conquering the homes of numerous people across the globe because of their advantages over copper pipes.
They are cost-effective, flexible, resilient, and corrosion-resistant- everything you would look for in an ideal pipe!
While you can install PEX for each fitting in the kitchen or the bathroom, you can sometimes face temporary inconvenience.
Why?
Because when you need to turn off the main water supply, all the water lines around the house will be closed. That means when you are installing a water heater, you can't get to wash your hands unless it is finished!
If you want to stop the water flow of a particular fixture, you'll have to set up a PEX manifold. Take a look at our list of the best PEX manifolds to know more!
What Is PEX Manifold? What Are The Benefits Of Using It?
A PEX manifold acts as a hub for distributing water across different zones around the house. It gives you control over each water line so that you can stop the water from flowing in a particular water line without affecting the others.
The structure of a PEX manifold resembles that of a breaker box. Inside a PEX manifold box, you'll find separate chambers for the outflowing hot water and cold water lines.
The hot water manifold passes hot water from the water heater to the different fixtures throughout the house, whereas the cold water manifold passes cold water from the main water supply.
There are several benefits to installing a PEX manifold in the house.
PEX manifolds are flexible, so there'll be a reduction in pressure drops.
Because hot water reaches faster to the faucet, there'll be little energy waste.
Installation of PEX manifold reduces the labor cost of installing a water distribution system or floor heating system.
PEX manifolds eliminate the hassle of stopping the water flow across all lines.
PEX can withstand freezing temperatures up to 20 degrees Fahrenheit.
Since PEX is non-metallic, the manifolds won't rust or corrode.
PEX manifolds don't require plenty of fixtures.
PEX manifolds support water lines starting from as small as 3/8 inches.
PEX manifolds have color codes for hot and cold water lines.
PEX manifolds are easy to install.
Our Top 10 Best PEX Manifold in 2022
1. Viega Manabloc 50243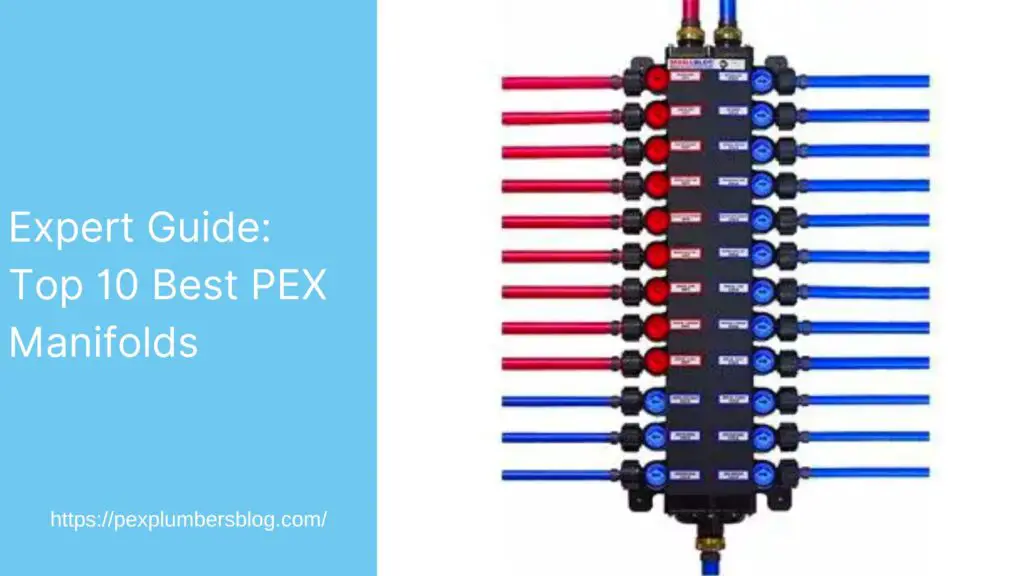 Viega is a popular brand for its range of fitting products made specifically for radiant heating and water distribution systems. If you're looking for a PEX piping manifold, the Viega Manabloc 50243 is a great option.
As you can tell by its design, the Manabloc 50243 is capable of accommodating plenty of hot and cold water lines for different zones throughout the house. It features a total of 24 ports- 15 for cold water lines and 9 for hot water lines.
All the ports are color-coded with red and blue colors for easy distinction of hot and cold water lines.
If you're wondering about the installation process, don't fret because all ports use crimp connections! In order to install PEX pipes, all you need is a crimp tool and crimp rings.
You'll have to purchase the crimp rings separately because this manifold doesn't include those. It also doesn't come with inlet and outlet adapters. However, it does come with a T-handle, which makes it easy for opening and close the valves.
This manifold is constructed of poly-alloy, which means it won't corrode over time. It also prevents chlorine from getting in the way and affecting the water quality.
You can rest assured there won't be any noise from the floor, as water runs through the manifold. This is something you will want to look for in the best PEX manifold system, and Viega Manabloc 50243 has it all covered.
Highlighted Features:
Poly-alloy manifold resists corrosion
Chlorine won't affect the water quality
Comes with a T-handle for easy opening and closing of valves
There won't be any noise as water flows through the manifold
It uses crimp connections
2. Viega Manabloc 50143
The Viega Manabloc 50143 is similar to the one mentioned previously. But, if you need less than 24 ports, you can take a look at it.
This one features 14 ports in total, where 8 are for cold water lines and 6 for hot water lines. And all the ports are color-coded so that you don't need to guess which lines use hot water and which use cold water.
There are also two inlets and an outlet, and all of them come with a cap so that you can keep the one you're not using closed. In order to make a connection, you will need to purchase the corresponding supply adapters separately.
When you need to install a water heater or fix a leaky pipe, you don't have to make the entire house deprived of water. With the included T-handle, you can simply turn off a specific water line while keeping the others active.
When you're done using it, you can attach it to the manifold so that you can easily access it whenever you need it.
The Manabloc 50143 uses 1/2 inch PEX connections to ensure adequate water flow. You can install PEX pipes in this manifold by either using crimp fittings, press fittings, or compression fittings.
Depending on your personal preference, you can choose any of these options to make a reliable connection.
Unlike the previous model, this one comes with mounting straps on both ends of the manifold to allow easy installation depending on the location of your water supply lines.
Plus, the manifold also comes with a sheet of labels that you can attach to the corresponding water line.
Highlighted Features:
The manifold does not corrode
It supports three types of connection methods
Features mounting straps on both ends for easy installation
The inlets and outlets come with a cap
There will not be any noise when water flows through the manifold
3. Apollo 6907912CP 12 Port PEX Manifold
If you own PEX-B pipes, it would be a waste had you spent on a manifold that works with only PEX-A pipes. Luckily, the Apollo 6907912CP is designed to be used only on PEX-B!
This manifold consists of a total of 12 ports equally divided between hot and cold water lines. Each of the ports is 1/2 inches and features a barb shut-off valve.
Whenever you need to stop the water from flowing to a particular fixture, you can simply turn the PEX manifold valve without affecting the rest of the lines.
The inlets measure 1 inch, but if you need to reduce the diameter to 3/4 inches, you can easily do with the included 3/4 inch adapters.
As for the connection method, you can either use copper crimp rings, stainless steel clamps, or stainless steel crimp sleeves. Regardless of how long of a PEX pipe you install, this manifold will always ensure a secure connection.
The Apollo 6907912CP is constructed with lead-free brass. That means it has excellent resistance to corrosion, so you can undoubtedly use it for years.
Also, the material makes the manifold a piece of equipment, which is safe to be used for distributing potable water.
If you're wondering whether the installation of this manifold is a hassle, you can rest assured it comes attached with mounting brackets for easy installation in your desired area.
Highlighted Features:
The manifold uses 6 cold water lines and 6 hot water lines
Lead-free brass construction prevents corrosion
Includes 3/4-inch adapters
You can install PEX pipes using three different connection methods
It has mounting brackets attached
4. SharkBite 25553LF 3-Port Closed Manifold
SharkBite is another well-known brand for its range of reliable plumbing products. One of those products you can install in the basement or the utility room is the 25553LF manifold.
This tee-style manifold features three ports and an inlet. The ports measure 1/2 inch, and the inlet measures 3/4 inch. The manifold has a closed design, which means there's no additional outlet on the other end.
Water from the main supply enters the inlet and gets distributed to different fixtures in the kitchen or the bathroom.
All the outlets require a push-to-fit connection, which means you only have to push the PEX pipe without using any tool. When you push the PEX pipe into the outlet, the stainless steel teeth will grab the pipe inside, and the O-ring will seal it.
If you don't want to go through the hassle of installation, this will be your top choice.
The body of the manifold is made of stainless steel, which is an advantage if you don't have plans on changing it after a few months or a year. It will not only last longer but also won't be prone to corrosion.
If you connect a water heater to the manifold, you can check the water's temperature in the inlet and outlets using a temperature gauge. Although the valves are designed to prevent wastage of thermal energy, you can use them to know you're getting hot water running to the faucets.
What's good about this PEX distribution manifold is that since it features fewer connections, there'll be less chance for leaks.
Highlighted Features:
Stainless steel manifold resists corrosion
Push-to-connect style makes installation easier
It has a maximum temperature rating of 200 degrees Fahrenheit
The valves avoid wastage of thermal energy
Because of the fewer connections, there's less chance of leaks
5. WiseWater 2 Loop Radiant Heat Manifold
Are you looking for a centralized PEX heating manifold for your home? If so, you can choose this radiant heat manifold by WiseWater!
This manifold features a couple of loops or ports where water from the boiler enters one port and then returns from the other port. Each port has its own necessities, like shut-off valves, flow valves, and drain valves to give you more control over the system.
When you introduce water into the manifold, it's not only water that enters inside but also air. As air enters, it gets mixed with steam and hence lowers the overall temperature. It is a big issue if you're not getting the hot water you need.
But thankfully, this manifold comes with air vents on both sides to eliminate the air that gets inside.
Additionally, there are temperature gauges that help you monitor the water temperature inside. Plus, the 1/2 inch PEX adapters allow you to connect PEX pipes needed for radiant heating.
As for installation, you won't have to worry about purchasing PEX tools from your local hardware store. You can either use your existing pliers or an adjustable wrench for installing the PEX pipes. And to mount the entire manifold to the wall, you can use the mounting bracket attached to the equipment.
Since the manifold is made of stainless steel, you can use have it functioning for years. It won't even rust and affect the water quality.
Highlighted Features:
Features individual valves, air vents, and temperature gauges
You don't have to do pressure tests
Does not require PEX tools for connecting PEX pipes
Comes with a mounting bracket for easy installation
Stainless steel construction prevents rusting and ensures durability
6. SharkBite 22789 8-Port Closed Manifold
Another manifold by SharkBite, the 22789 closed manifold simplifies all your PEX plumbing tasks.
Compared to the one we have seen earlier, this one features eight ports instead of three. That means you're getting additional ports for connecting water lines to more fixtures.
Each of the outlets is 1/2 inches while the inlet is 3/4 inches. Since the outlets are located on the same side, it will be easier for you to connect PEX pipes.
Speaking of connections, the manifold supports crimp connections. That means you will need some crimp rings and a crimp tool for securing the pipe into place. A watertight seal will be created that will ensure there are no leaks.
Additionally, if you use SharkBite's tub liner, which isn't included with this manifold, it will prevent the pipes from getting loose.
Besides PEX, you can also connect copper and CPVC pipes to the manifold. This gives you versatility and also saves money on purchasing separate manifolds.
SharkBite 22789 is the best PEX plumbing manifold for safety and corrosion resistance. Made of lead-free brass, this system is safe to be used in water distribution systems, there's no need to worry about having metal content in the water.
Not only that, but the material also resists corrosion.
Highlighted Features:
Features eight outlets and one inlet
Crimp connection secures pipes into place
You can connect PEX, copper, and CPVC pipes to the manifold
Lead-free brass construction ensures safety
The manifold is resistant to corrosion
7. WiseWater 12 Loop Radiant Manifold
Here's another radiant manifold by WiseWater that you can use for heating your home without a hassle.
Although this manifold and the one mentioned previously have a similar design, the major difference lies in the fact that both feature a different number of ports. If you think a two-port manifold isn't enough for heating all the zones in your home, you can opt for this 12-port manifold.
The outlets all have their own shut-off valves, drain valves, flow valves, zone valves, and air vents to allow you to have maximum control over the system. They are compatible with 1/2 inch and 3/4 connectors which are included for your convenience.
Like the WiseWater 2-loop manifold, this one also features individual temperature gauges for both drain valves. The gauges help you monitor the temperature of the incoming and outgoing water so that you can easily tell in case the water isn't at the right temperature.
Not all manifolds come with a cap for keeping the drain valve on standby. Luckily, you'll get an extra cap with this manifold, which might come in handy in case you need to fix something.
Constructed of stainless steel, the manifold offers resistance to corrosion and pressure, while ensuring longevity. Plus, it conducts heat well, so the water from the boiler won't lose its temperature easily.
Highlighted Features:
Stainless steel construction offers resistance to pressure and corrosion
Includes 1/2 inch and 3/4 inch connectors
Comes with an extra cap for drain valves
You can easily set up the manifold using the mounting bracket
The temperature gauges allow you to monitor the incoming and outgoing water temperature
8. WiseWater 4 Loop PEX/Radiant Manifold
The last one by WiseWater, the 4-loop PEX/radiant manifold eliminates the hassle of setting up a centralized heating system.
This manifold has the same structure as the previous WiseWater manifolds, except that this one uses a 4-loop system. Each of the four ports has its own valves so that you can easily control the water flow.
Although they are 1/2 inches, you can convert them to 3/4 inches using the included adapters.
Air vents are a must-have in PEX water manifolds because these purge out any air that gets inside with water and affect the temperature. Like the other WiseWater manifolds, this one also features air vents to eliminate the issue.
The supply and return ports are 1 inch, and both of them have an extra cap to let you keep the ports on standby as you fix any issues. Not only that, but they also have their own temperature gauges so that you can monitor the temperature of the incoming and outgoing water.
As for construction, this PEX water manifold system is built with stainless steel. Stainless steel is known to be durable, rust-resistant, and also an excellent conductor of heat. So neither the manifold will break easily nor cause the hot water to lose its temperature.
Highlighted Features:
Since the manifold is made of stainless steel it is durable
Comes with extra caps for the supply and return valves
You can use 3/4 inch adapters in the 1/2 inch outlets
Resists rust and corrosion
Individual temperature gauges let you monitor the temperature of water flow
9. Minimprover 4-Port Closed PEX Plumbing Manifold
For the PEX water distribution system, you can take a look at this tee-style manifold by Minimprover.
Like the SharkBite manifolds mentioned previously, this manifold has one end of its trunk closed. That means, that when water flows inside the trunk, it can't flow straight through the manifold but only through the branches.
So, if your system doesn't require the other end of the manifold, this is just for you!
The outlets are 1/2 inches, and each of them comes with its own copper crimp ring for your convenience. You can either use those crimp rings to secure the PEX pipe or stainless steel clamp rings.
This manifold isn't just limited to PEX tubing but also copper and CTS CPVC. You have the freedom of connecting these different pipes in any combination!
Regardless of the connection method you use, the manifold will ensure a watertight seal. It will also work well in tight spaces where bigger manifolds won't fit. You can either install it horizontally or vertically depending on the position that will allow convenient water flow.
It doesn't matter if you're using a manifold for potable water or to clean dishes because you will always want to use clean water. Thankfully, this manifold is made of lead-free brass, which makes it completely safe for your health.
Highlighted Features:
Each of the outlets has its own copper crimp ring.
You can install the PEX copper manifold in tight spaces.
Can be installed horizontally or vertically.
You can use the manifold to connect PEX, copper, and CTS, CPVC pipes.
A lead-free brass manifold ensures safety.
10. SharkBite 22783 Elbow
The SharkBite 22783 elbow manifold is another tee-style manifold you can use for your water distribution system.
This is a closed manifold, like all the tee-style manifolds for PEX tubing mentioned in this list. It features three 1/2 inch outlets and a 3/4 inch inlet for connecting the main supply.
Like the SharkBite 22789, this one also supports crimp connections, but you can also use clamp connections depending on your preference. Whichever method you choose, the manifold will ensure a watertight seal.
This is also a versatile manifold like the other tee-style manifolds here. Besides PEX pipes, you can also connect copper and CTS CPVC pipes. So, if you need to install any of these pipes other than PEX, know that you won't have to look for a separate manifold!
As all manifolds for PEX should, the SharkBite 22783 offers safety. It is made of DZR brass, which resists corrosion to a greater extent while ensuring safety when used for potable water.
Highlighted Features:
You can use this manifold to install PEX, copper, and CTS CPVC pipes.
DZR brass highly resists corrosion while ensuring safety.
You can use crimp or clamp connections.
Ensures a watertight seal.
Compatible with all PEX types.
| | | | |
| --- | --- | --- | --- |
| | | | |
| | | | |
| Viega 50143 Adapter forhot water heater | | | |
| 6907912CP 12 Port PEX Manifold by Apollo | | | |
| SharkBite 25553LF Manifolds | | | |
| WiseWater 4 Loop Radiant Manifold by AB Store | | | |
| SharkBite 22789 8-Port Manifold | | | |
| WiseWater 12 Loop Manifold for Hydronic Radiant Floor Heating  | | | |
| WiseWater 4 Loop PEX/Radiant Manifold | | | |
| Minimprover 4-Port Closed PEX Manifold | | | |
| | | | |
Things To Consider While Buying PEX Manifold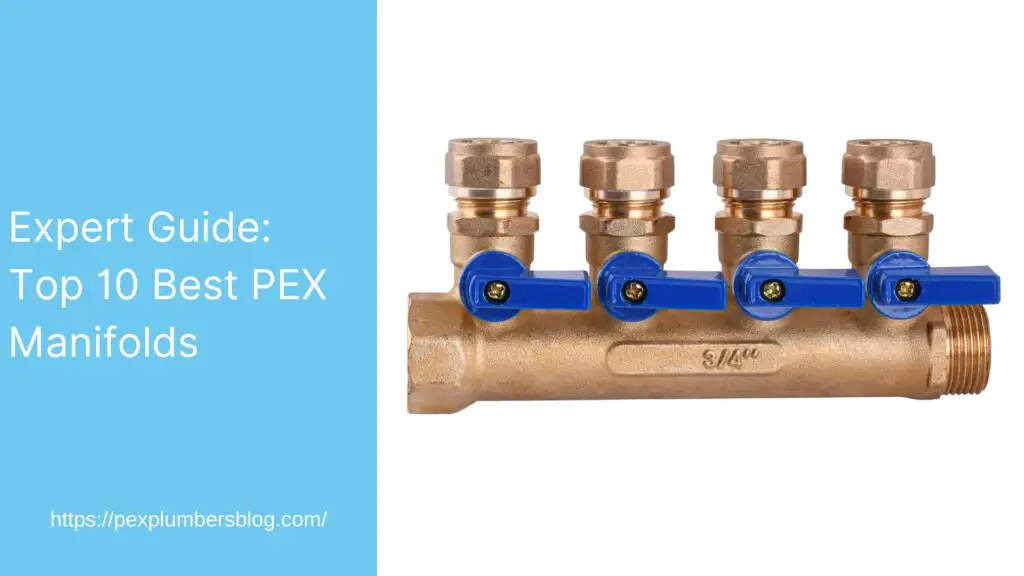 Size
Before you start appraising the best PEX manifolds and decide which one is ideal, the first factor you'll need to consider is the size.
PEX manifolds come in various sizes. It can be short, long, or thin to suit different spaces. If you plan on installing a larger manifold, you will need to have enough space in the room where you'll be installing. Otherwise, all your efforts, as well as your money will go down the drain.
Instead of doing all the guesswork, we recommend you take proper measurements of the installation area. You need to measure the length, width, and height of the space and then look for a manifold that fits there perfectly.
Ports
Depending on how many lines you want to connect, you will need to choose a manifold having the corresponding number of ports.
Smaller PEX manifolds have 2, 3, or 4 ports, while larger ones have as many ports as 24. For installing PEX manifolds in small spaces, you will want to go for a fewer number of ports because there wouldn't be enough space for accommodating more lines.
If you want to have hot and cold water lines, you will need to get a manifold having enough ports for differentiating the water lines.
Apart from the number of ports, you might also want to consider the size of the port. Most ports measure 1/2 inches, but you will also find ones having a 3/4-inch adapter to give you adjustability.
Relevant Article: Where is PEX Not Allowed or Banned? Why Is That?
Inputs
PEX manifolds feature input ports from which water is collected and outlets that distribute water throughout different zones.
Input ports typically measure 1-inch in diameter to allow more water to flow through the outlets. Some PEX manifolds may also come with an extra outlet for draining or filling the port.
Having the additional port comes in handy at times when you need to check the distribution system for issues. It is also helpful for keeping filtered water going through the pipe.
Construction
The material your PEX manifold is constructed of is another crucial aspect you need to keep in mind.
PEX manifolds are typically made of copper, but you can also find ones made of stainless steel and plastic. Copper manifolds are commonly used because it is affordable and prevent rust from forming on the surface.
Another variation of a copper manifold is brass. Usually, it is termed 'lead-free', which makes it completely safe for potable water.
Stainless steel manifolds are a great option in terms of durability, but they are more expensive than copper. Despite that, such manifolds smoothly work for years without getting corroded and affecting the water quality.
On the other hand, plastic manifolds offer less durability than copper and stainless steel. It's because they work within a specific range of pressure. Such manifolds are ideal for those who are always customizing the manifold system.
Depending on your personal preference, you need to choose the material accordingly.
Compatibility
PEX manifolds come in different sizes and contain a different number of ports. This wide range of options lets you decide which size and the number of ports will work great for your plumbing system.
Also, you'll find most PEX manifolds to be pre-installed while others need manual installation. Before purchasing any PEX manifold, make sure it is compatible with your plumbing system.
Types Of PEX Manifolds
PEX manifolds are of different types. They are as follows.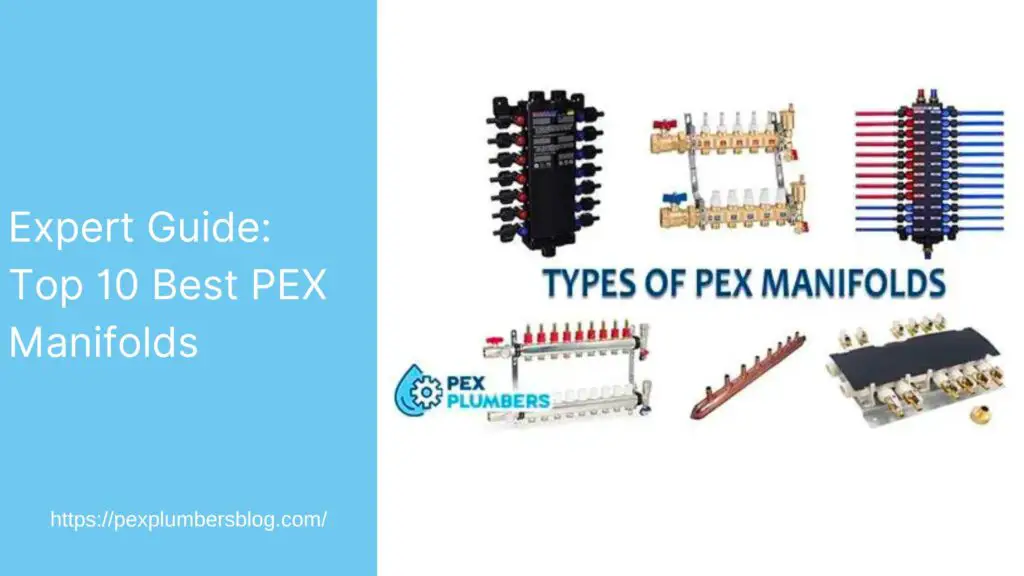 1. ProPEX Manifolds
ProPex manifolds require a ProPex ring and an expander tool for securing the connection. These are usually made of copper but you'll also find plastic ones. This type of manifold features four to 12 outlets.
2. PEXPress Manifolds
PEXPress manifolds are made of plastic, which makes them a lightweight and durable option. They also provide reliable connections, and anyone can easily install them without the help of a professional.
3. Push-Fit Manifolds
Push-Fit manifolds are easy to install since they don't require the use of special tools. The outlets in these manifolds have push-on style connectors that ensure reliable connection for multiple water lines.
4. Compression Manifolds
Compression manifolds also don't require any special tools for installation. These offer a reliable connection when a PEX pipe is secured using the compression nut and ring.
5. Crimp Style Manifolds
Crimp-style manifolds feature copper crimp rings that require to be crimped using a crimp tool. They also ensure a secure connection.
6. Manabloc System
Manabloc systems come pre-assembled so they don't require the use of special tools. They contain multiple ports each having its own shut-off valve.
FAQ
1. What Size Of PEX Manifold Do I Need?
It all depends on how much space the area where you'll be setting up the manifold has. If you want to install a larger manifold, you'll need more space, and for smaller ones, you wouldn't need much space.
2. Is PEX Manifold A Necessity In My Home?
Unless you're bothered by heading to the basement for shutting off the main water supply or you don't have a reliable water distribution system, it is not necessary to install a PEX manifold. PEX manifolds do have plenty of advantages, but the choice is yours.
3. How Long Does A PEX Manifold Last?
If you properly install a PEX manifold in your desired area, the equipment will last for 50 years. And, if you maintain the manifold regularly, its lifespan can get as long as 100 years. Overall, the lifespan of a PEX manifold depends on the care given to it.
4. Are PEX Manifolds Ideal For Heating Systems?
While most PEX manifolds are designed for water distribution systems, others can be used for radiant heating systems on floors. Unlike baseboard heaters, which take a lot of time for heating the entire floor, PEX manifolds make the process faster while saving energy.
There's a chance of dust accumulating inside the baseboard, which is not evident in manifolds. So, PEX manifolds bring more benefits to heating systems.
5. Is It Safe To Use A PEX Manifold Outdoors?
PEX pipes should not be used outdoors because the UV rays can cause the material to break down and release chlorine into the water. Since PEX manifolds feature PEX pipes, it is better to avoid installing them outdoors.
6. Can I Use A PEX Manifold Underground?
A PEX manifold should be installed in a convenient location, such as a basement or utility room, where you can easily access it. If you install it underground, the material it is made of will corrode quickly.
Final Word
So, that's all we have to share about the best PEX manifolds for your convenience. Instead of heading to different stores in search of one, you can save your time by learning about our top picks and the things that need to be considered before buying.
All of the above PEX manifolds have gone through enough research and testing to check whether they are worth the money.
And, luckily they are! Whichever PEX manifold you choose for your home improvement, you can rest assured it won't disappoint you.
No more stopping the water flow of the entire house!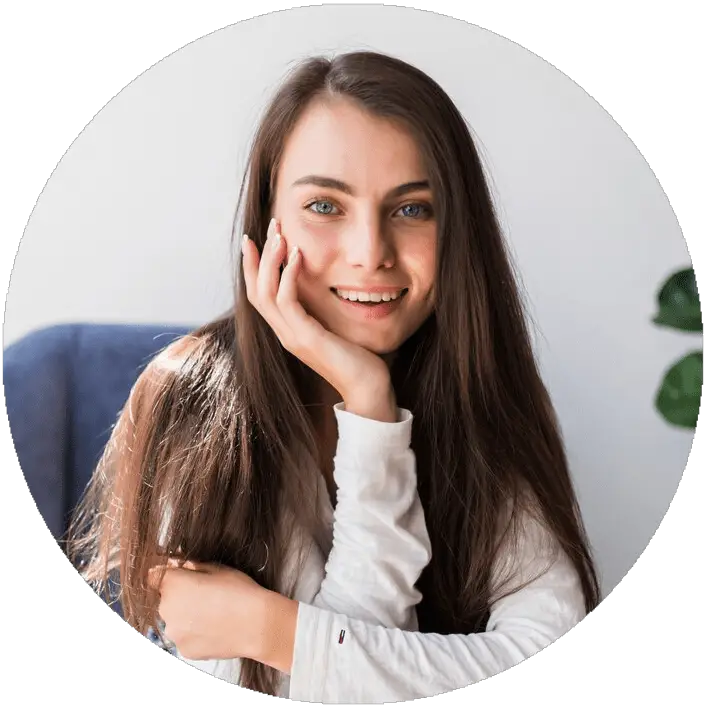 Hey! I'm Leanda Bailey. I'm here to explain every plumbing installation and repair you may have in your kitchen or bathroom. Also, I'll try to find you the best products on the market for your plumbing work.