Shower valves are crucial for balancing the water temperature and pressure to give you a pleasing experience. But not all shower valves are made up to mark. And they come in many different styles, so you might have a hard time choosing the right type.
We have come up with the best PEX shower valve reviews to help you choose the most suitable valve according to your needs.
This article will also cover crucial factors to consider before buying a PEX shower valve.
See us revealing what these valves have to offer before you head to buy.
Let's get started.
What to Look for Before Buying the Best Shower Valve for PEX?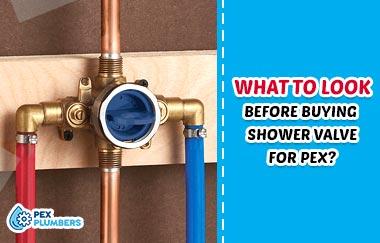 To be honest, you need to look for many different things before buying the best PEX shower valve. If you are new to this, things can seem overwhelming. We have simplified the necessary factors for your convenience.
Have a look.
1. Valve Type
Though all the PEX shower valves do the same thing, there are varieties in their types and working principles. Some valves have a pressure balancing feature to keep the water flowing at a constant pressure. This ensures smooth water flow out of the faucets.
Some valves are thermostatic, meaning they can control the temperature of the water. You can set the water temperature at your desired position, and the valve will take care of the rest.
Transfer valves are also used for PEX, but they aren't that common. Some valves will combine the thermostatic and pressure balancing features, so you will get both in one valve.
2. Automatic and Manual Valves
Thermostatic valves can be easily controlled to get the optimum temperature. The biggest benefit is that you don't need to alter the faucet position repeatedly. Once the water temperature has reached the desired position, the valve will automatically shut off.
But manual valves can't do this. So, you need to turn the faucets on or off as required manually.
Relevant posts >> How Long Does Pex Piping Last
3. Number of Connections
It is crucial to ensure the valve can be used with different trims at the same time. If there are multiple inlet connections, you can use the valve to control both the water temperature and pressure.
Multiple outlet connections will allow you to use the valve with different showerheads without altering the plumbing system. Most valves have universal half-inch connections, but you can also get a 3/4 PEX shower valve.
4. Material and Build Quality
As PEX valves are installed in the water supply system, they should be made of high-quality material to sustain for a long time. Most PEX shower valves are made of brass as it is very durable in this specific use case.
No matter what valve you buy, it should have no leaks to maintain its performance throughout. The valve will continue to maintain a smooth water flow only if it is leakproof.
5. Price
This might not be a big factor in making your buying decision, but you should always get good value for your money. Some valves are unnecessarily pricey, so you can avoid them. Get something that offers solid performance at an affordable price.
| | | | |
| --- | --- | --- | --- |
| | | | |
| | Delta Faucet R10000-UNBX Tub and Shower Valve | | |
| | Delta Faucet R10000-UNBXHF Shower Valve | | |
| | Delta Faucet R10000-UNWSHF Shower Faucet Trim Kits | | |
| | American Standard RU107E Flash Shower Valve | | |
| | Moen 2580 Posi-Temp Brass Shower Valve | | |
Our Top Picks for The Best PEX Shower Valve in 2022
We have reviewed seven popular models and tried to give you a sneak peek of them here. Let's know more.
Relevant post >> PEX Expansion Vs Crimp
1. Delta Faucet R10000-UNBX MultiChoice Universal Tub and Shower Valve
Highlighted Features:
High-quality build for longer service life.
Universal connection for tub and shower faucets.
Sturdy mounting bracket and square cuts.
Pressure test cap for air or water testing.
Conveniently upgrades shower function and style.
Changing the shower trim without affecting the existing plumbing is tricky. This PEX shower faucet does the job extremely well and is compatible with a wide variety of systems.
As a result, you can easily use this valve body in shower units with common plumbing systems. It is made of brass, so there will be no questions about durability. Even the mountain bracket is made of the same material, so fitting the valve to the stringer is very convenient.
Due to the square shape of the plaster guard, the valve will snap in place without any tools. You can also test the system with the pressure test cap before installing the valve cartridge.
You can choose the valve cartridge to be delivered with the package. There are single-function and dual-function cartridges. Both the inlet and outlet connections are for 0.5-inch PEX with an NPT male thread. Convenience and style make it the best PEX shower valve.
2. Delta Faucet R10000-UNBXHF MultiChoice Universal Shower Valve
Highlighted Features:
Brass core with a brass finish on the exterior.
Universal connector for many different pipes.
Fits existing plumbing lines.
Available and single, dual, or dual thermostatic trim kits.
Low profile design with high durability.
This is almost the same shower valve as the previous one. But it can only be used with shower trims, not with tub spouts like the UNBX model. The valve is made of the same high-quality brass material as before.
As a result, its durability will be up to the mark. The mounting bracket is also made of brass to make fitting the valve sturdier. The exterior has a brass finish, but you might not see the valve hidden under shower trims.
You don't need to alter any plumbing line to install this PEX pipe shower valve. It will fit into existing lines and upgrade the look and feel of your shower trims. The versatility of this valve makes it a go-to option for anyone willing to bring aesthetics into their shower trims.
It has a universal connector size of half an inch which will fit copper, iron, PEX, or CPVC pipes.
3. Delta Faucet R10000-UNWSHF MultiChoice Universal Shower Valve
Highlighted Features:
Durable brass builds with mounting brackets and screwdriver stops.
Pressure test cap for air or water testing.
Compatible with a wide variety of trim kits.
Universal connection options for different pipes.
If you look closely, you will see that this PEX shower mixing valve is just a variation of the previous models. You will get the same flexibility as those models in this brass valve.
The build quality of the valves in this series is top-notch. So, you don't need to worry about their durability. But be careful while choosing the trim kit. This valve will fit single-function Delta trim kits from T13 or T14.
If you go for the dual-function trim kit, you should choose the T17 series. The valve has the same connectors as previous models. But you can use this valve only in shower trims.
Installing the valve in the existing plumbing system is easy. Screwdriver stops are included in this valve, which wasn't present in the previous models we have discussed.
The same NPT male thread and copper sweat are present here. It also has a low-profile design to give the shower a sleek and modern look.
4. American Standard RU107E Flash Shower Rough-in Valve
Highlighted Features:
Brass body with stainless steel retaining rings.
Flatback for easy installation.
Crimp style PEX elbow included.
Pressure test cap for testing air and water.
180-degree rotatable valve for fitting into tight spaces.
This shower valve with PEX connections will make installation a lot easier. It has multiple ports on either side with crimp-style PEX elbows. As a result, you can easily rotate the valve to accommodate shower lines from the ceiling.
The valve is made of cast brass, so it will be very durable. With a flat-back design, the valve is easy to mount against a stringer. The braces will hold the valve tightly in place, ensuring a smooth water flow.
Air and water testing is important for shower valves. The pressure test cap included in this valve will help in that case. A stainless steel retaining ring is included in the valve to make installing cartridges easier. You can install your preferred cartridge without screwing.
The elbows in this valve have male thread and female sweat connections for PEX, CPVC, and more. You can use this valve for shower trims and tub spouts.
5. Moen 2580 Poxi-Temp Brass Pressure Balancing Shower Valve
Highlighted Features:
Compatible with copper, CPVC, or PEX connections.
Pressure balancing ensures the optimum temperature.
Temperature limit stop increases safety.
Can be installed in existing plumbing systems.
This heavy-duty 3 port PEX shower valve from Moen features crimp ring inlet connections. The whole valve is made of brass to make it durable even in constant contact with water.
Its pressure balancing feature ensures you get no shower shock. The perfect balancing between hot and cold makes this valve stand out. It will support standard half-inch copper, CPVC, or different PEX connections.
The valve can be installed in the existing plumbing system, so no altering is required. You can use this for both shower trims and tub spouts. It should be combined with a transfer valve in required cases.
Moen valve also features a temperature limit stop to ensure safety. Stopping the valve needs only a quarter turn. The overall convenience of installing and using the valve is notable.
But the price can be a concern here as it costs a lot more than standard PEX shower valves. If you are okay with the price, the valve will blow you with its performance.
6. Delta Faucet R10000-PXWS MultiChoice Universal Shower Valve
Highlighted Features:
Durable build and high-quality material.
Compact design with a flat mounting facility.
Three types of connections for use in versatile systems.
Pressure test cap included.
It will remind you of the valves we have discussed at the beginning of this review. The PEX shower valve kit is made with brass for better durability and performance. Its base can be mounted easily, thanks to the sturdy brackets on the back.
Back-to-back installation is also easy with these valves. It offers three types of connections, IPS, PEX, and Universal. So, you can use this valve in a variety of plumbing systems without altering anything.
PEX crimp connections are used in inlets, while outlet connections are compatible with half-inch universal ports. It also has screwdriver stops, which weren't present in the previous valves we have reviewed from the same brand.
It will work fine with Delta single, dual, or dual thermostatic trim kits. The cartridge isn't included with the valve body. You need to choose that while picking the shower trim.
This valve comes at a great price and satisfies us with its performance. We strongly recommend you should give this a try.
7. American Standard RU107 Flash Shower Rough-in Valve
Highlighted Features:
Brass body with a stainless steel finish.
PEX crimp connections without any adaptor.
Flat mounting brackets for easy installation.
180-degree rotatable for different orientations.
Retaining ring to install cartridge easily.
The last valve on our list is the RU107, which has almost the same characteristics as the RU107E. This valve is made of brass with a stainless steel finish on the exterior. So, it might look a bit different from other valves.
You can easily install the valve with the help of male threads and female sweats. It is compatible with different connections, including PEX crimp, cold expansion, and CPVC.
The back of the valve is completely flat so that you can install the valve in tight spaces. Its pressure test cap can handle enough air and water pressure, so you can conveniently check the valve body before installing the cartridge.
It also has the same stainless steel retaining ring as the RU107E to make installing cartridges easier. You don't need any screws to hold the cartridge in place. Connections can be made without any adaptors.
This will be one of the best shower valves for PEX you will find out there at this budget.
How to Install Shower Valve With PEX?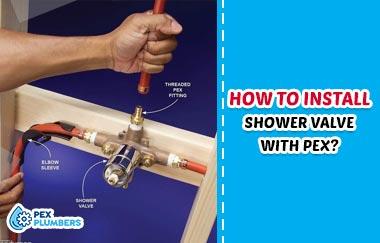 If you are doing it for the first time, it will be better to check our simple step-by-step guide on how to install a shower valve with PEX. Here you go.
The first job is to wrap inlet ports with thread tape. Give them a good wrap so that the PEX fitting sits tightly.
Then install the PEX crimp fitting in the inlet port to connect your PEX pipe.
Once this is done, put the plastic flange of the valve on and mount it on the desired surface. Make sure the back of the valve is aligned properly.
Take hot and cold supply pipes and use a crimp tool to connect them to the inlet ports of the valve.
Then you can install cartridges and shower trims of your choice.
FAQ
This section is all about finding answers to some frequently asked questions. Let's check them out.
1. Can I use PEX for the shower valve?
Yes, you can use PEX for the shower valve. But you need to use proper fittings to connect PEX pipes to shower valves. Most valves will have a crimp-type PEX connection. So, use the right fitting to connect PEX pipes.
2. What size PEX for a shower?
There is no hard and fast rule for this. You can even use one-inch PEX if it matches the valve. But a lot of water will be wasted if you use bigger pipes. Using something from 3/8-inch to 1/2-inch will be good enough.
3. Can I use PEX for my tub spout?
Though you can use PEX for tub spouts, we don't recommend doing so. This is because tub spouts are usually heavy, and PEX pipes might not always support the weight of the spouts. So, it's better not to use PEX for tub spouts.
4. Does PEX lose water pressure?
PEX plumbing has been very popular lately. One of the main reasons behind their popularity is that PEX plumbing holds the water pressure. In fact, this system holds pressure better than any other system.
Final Word
Getting water from shower faucets at the right pressure and temperature feels satisfying. But we often overlook how many things go into making a system that works fine without any issues for years.
With the increasing popularity of PEX plumbing, PEX shower valves are taking over the place. Though there are many valves in the market, picking the right one needs a bit of experience, which most homeowners don't have.
We hope our detailed guide will help you know the important factors you should consider while buying a shower valve. And the reviews will make it a lot easier to choose the best PEX shower valve.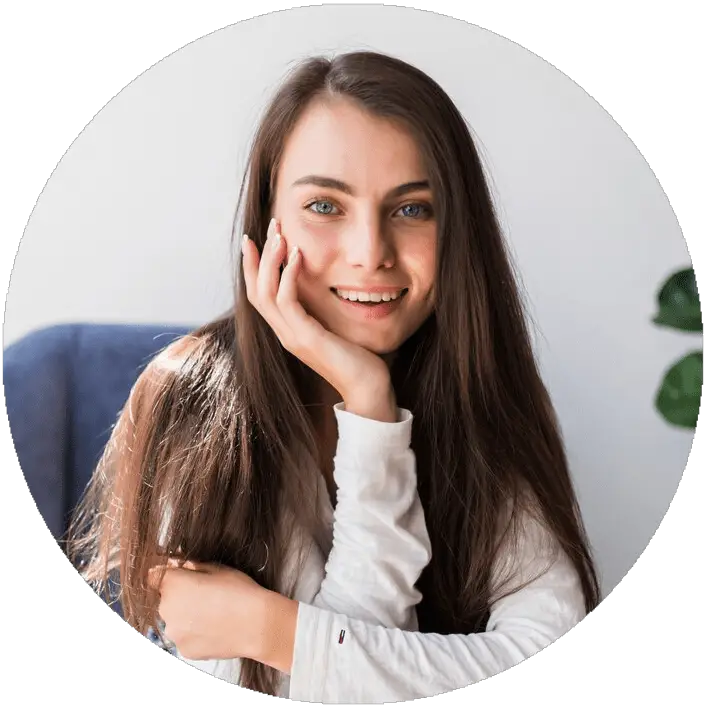 Hey! I'm Leanda Bailey. I'm here to explain every plumbing installation and repair you may have in your kitchen or bathroom. Also, I'll try to find you the best products on the market for your plumbing work.