Weirdly enough, the bathroom might be the most important room in any household. If you are a landowner and want to rent out a couple of apartments in your building, you need to make sure that the bathroom is in decent condition. And what do all bathrooms need? Answer: a toilet.
But the sad truth is, toilets, at least the decent ones, are not exactly cheap. And if you do decide to go with a cheap toilet, you will need to replace it again after a couple of months.
So, if you go with a good quality toilet right off the bat, you would end up saving a lot of money in the long run.
But which toilet should you go for when you are going to install it in your rental property? And how much should you spend? Well, these are the questions that I want to answer today.
In this article, I will give you a quick rundown of some of the best toilets for rental property that you can find in the market that will offer you a great value for your investment.
TOTO UltraMax II Toilet with SanaGloss

American Standard 1-Piece Single Flush Elongated Toilet

HOROW Small Short 1-Piece Dual Flush

Toilet

American Standard 2-Piece Single Flush Toilet with Concealed Trapway

TOTO Ultramax Elongated One Piece Toilet
As A Home Owner What To Look Before Installing A Toilet Into Your Rental Property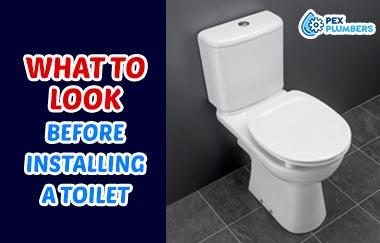 When you are planning to install a toilet in your rental property, you can't just go out and buy the most top-of-the-line option out there. This is a common problem for landlords who have just rented out their property. They have to provide a toilet for the tenants.
I know you want your tenants to have the best experience, but it is not possible without going overboard on your budget. Besides, just because you are not spending an absurd amount of money on toilets does not mean you cannot buy a good one.
There are a couple of things that you can check to make sure you are getting a good toilet for your tenants. In the following section, I will talk about a few factors that you can check to make sure you are buying the best toilet for rental property.
1. Flushing Mechanism
Flushing technology is a system that has been developed to supply water to the toilet bowl. There were only two types of toilets in the past – the siphonic and gravity-fed toilets.
When you are shopping for a new toilet, you may also come across the terms single flush and dual flush. A single flush toilet will allow you to flush only once before it needs to refill the water tank. These toilets typically have a smaller capacity in the tank and cannot flush more than once.
however, dual flush toilets feature a larger water tank capacity and allow you to flush two times ago. Both of these options can be great for personal use. However, for rental properties, going with a single flush toilet might be the better and more cost-efficient approach.
Relevant post >> How Long Does Pex Piping Last
• Gravity-Fed System
There are many different types of toilets and flush systems, but the most common is the gravity-fed system. Toilet water is stored in a tank that sits on top of the toilet. When someone flushes the toilet, water rushes from the tank to create a strong enough force to push waste through pipes and into a septic system or sewer.
• Pressure-Assisted Systems
Pressure-assisted systems use pressurized water from a tank to pump waste down the drain pipe. It's more expensive than gravity-fed systems, but it doesn't require as much maintenance because it doesn't rely on gravity alone to move waste through your pipes.
• Vacuum-Assisted System
The vacuum-assisted system uses less water than other types of flush systems because it doesn't use any to cleanse or rinse away waste from the bowl before flushing it away.
It works by sucking the air out of a sealed trap below the bowl to create a vacuum. The toilet then flushes more efficiently, without water, by running the waste down the drain and into a sewage system.
2. Water Usage
One factor that often gets overlooked when buying a new toilet is how much water it uses. Remember, water costs money, and if you go with a toilet that uses water recklessly, you will end up having to pay a lot of money for it. So make sure the toilet conserves water whenever it can.
These days, many toilets come up with innovative flushing mechanisms that do not use up as much water but still discard wastes efficiently. Whenever you are buying a toilet for rental property, make sure you look at how much water it uses per flush to get an idea about its water usage.
3. Tank Quality and Size
Another thing that you want to think about is the size and design of the toilet tank. If you are going with a one-piece toilet, the tank would typically be smaller. It is also attached to the bowl directly in one-piece units.
However, two-piece toilets have the two components separated, and you need to attach them during installation. You also want to take a look at the inside of the tank and check the quality of the material. The tank in a cheap toilet will often be victim to bacteria or mold growth, so you want to avoid those if you can.
4. Noise Level
Nobody likes a toilet that flushes too loudly, in my experience. For rental properties, I would always recommend installing a quiet toilet that has a strong flushing mechanism. Otherwise, it might be embarrassing for the tenants when they have guests over.
5. Toilet Size
Toilets these days come in a lot of different sizes. And when you are buying a new toilet for your rental property, you need to make sure you are buying the right size suitable for the bathroom. If you get a large toilet and the bathroom space is small, it will be an extremely tight fit.
For small bathrooms, compact toilets are the best choice. However, for larger bathrooms, going with a smaller toilet makes it look a bit awkward. So you need to decide which size is right for the bathroom when you are out shopping for a new toilet.
6. Buying Cost
Of course, the cost of the toilet is an essential factor to consider, especially if you are buying it for your rental home. If you have to install toilets in a couple of different apartments, consider going with an affordable option. You do not want to overspend on a rental property if you can help it.
7. Installation Difficulty
Typically, you do not want to install the toilet yourself. It can be quite tricky, and if you do not know what you are doing, you might mess up your entire plumbing system. And if you hire a good plumber, and the installation of the toilet is too difficult, he might charge you extra.
So, it is best to go with a toilet that does not require you to jump through a lot of hoops to get it set up. You can also consult your plumber and ask for suggestions. He can always refer you to a toilet that he will have less trouble installing which will reduce expense on your end.
Top 8 Best Toilet for Rental Property in 2023
Now that you understand which features are important when buying a new toilet, let me leave you with a couple of recommendations. Here are my top picks:
1. TOTO MS604114CEFG#01 UltraMax II Toilet
Let me start off with a fantastic, elongated toilet by the brand TOTO. It might not be the cheapest option out there, but it is definitely one that offers excellent performance. Your tenants will thank you once you set up their home with a high-quality residential toilet like this one.
The highlight of this unit is its high-efficiency Tornado Flushing System. It is a truly innovative feature that moves water and waste efficiently through the plumbing without wasting any water. In fact, you will be saving up to 30 percent on your water consumption because of this feature.
Its height is universal and should allow for a comfortable sitting position. And if you set it up properly inside your bathroom, the user should have ample space to relieve him or herself in the piece. Even for a disabled person, using the toilet feels quite comfortable.
The toilet furthermore features a leak-free design and does not require any bolts or gaskets. So, you will be able to clean the tank easily and get rid of any bacteria or microparticles. The trip lever is also chrome-plated to ensure no rust can form on the surface.
This unit is also compliant with EPA and ADA standards, so you will not have to worry about any gas emissions. It is an excellent high-efficiency toilet that should serve you well regardless of whether you are a landowner or a tenant. If you can overlook its price, you will find nothing worth complaining about.
Highlighted Features:
White Chrome Finish.
Elongated one-piece design.
Tornado flushing system.
Compliant with EPA and ADA standards.
2. American Standard Single Flush Elongated 1-Piece Toilet
American Standard is a well-known name when you are shopping for bathroom appliances and for toilets; this is one of the biggest names out there. The Compact Cadet by the brand is a great pickup that does not cost you too much. If you are on a budget and want an affordable option, then this one should serve you well.
This unit comes in two designs, one for right-handed people and the other for left-handed. So, you can pick up whichever one you prefer to install on your rental property. As a bonus, you get a slow-close seat and lead to make sure the toilet seat does not slam shut by accident.
The toilet comes with FloWise technology and a Cadet 3 Flushing System that ensures water conservation and efficient flushing. With each flush, it uses up to 1.28 gallons of water which is perfect for reducing excess water consumption. It also has an EverClean feature that eliminates stains and odors and protects the bowl from mildew.
The height and design of the toilet are perfectly comfortable and are compliant with ADA standards. It is also WaterSense certified, so you will not have to worry about wasting water. Overall, this one-piece, an inexpensive toilet can be a great choice for just about anyone.
Highlighted Features:
Cheap toilet with an efficient design.
EverClean technology prevents odors.
Comes with a slow-close seat.
One-piece construction.
3. HOROW Dual Flush 1-Piece Toilet- 10" Rough-in Seat Included
If you do not want to go with an elongated toilet and want something that is compact and efficient, the Horow one-piece Dual Flush Toilet is your best bet. Don't let its size fool you; it is one of the most reliable toilets out there with a strong flushing system.
It is made of porcelain and has 10 inches of rough-in, allowing you to fit it in any home without sacrificing too much of your bathroom space. The toilet also boasts a clog-free design that will not affect your water consumption and keep your energy bill at a minimum.
Thanks to its fully glazed Siphon dual flush system, it will be able to move waste down the drain efficiently. It is also self-cleaning, so you will not have to worry about bacteria or mold buildup inside the toilet bowl and tank. On the plus side, it is also a quiet flush toilet.
The unit is both cUPC certified and compliant with CEC C standards. You also get a warranty of 3 years for its flushing mechanism, which is a nice touch. The manufacturer also includes a soft-closing lid with the toilet to make sure the user experience is excellent.
Highlighted Features:
Excellent build quality.
Comes at an affordable price.
Fully Glazed Siphon Flush technology for waste dispersal.
Compact design.
4. American Standard 2-Piece Single Flush Toilet with Concealed Trapway
For my next pick, I decided to revisit American Standard because let's face it, they make fantastic toilets at an affordable price. The American Standard 2988101.020 Cadet 3 is another great pick if you are planning to install toilets in your rental property for your tenants.
This toilet features a round front and is made with high-quality Vitreous China. So it should last you a long while and be easy enough to install even in a tight room. For bathrooms that have limited space, this can serve you well. Similar to the other unit I talked about by the brand, this one comes with a slow-close toilet seat.
What's special about this unit is its oversized flush valve. You will be able to access it easily, and thanks to the Cadet 3 FloWise Flushing System, the toilet will be able to discard wastes efficiently through the drain without taking a toll on your water consumption.
The unit uses up to 1.28 gallons of water per flush which is around 20 percent less than other similar options. It has an EverClean surface that prevents mold and bacteria from forming in the toilet bowl. Furthermore, it is compliant with ADA standards for its comfortable sitting and standing height.
Highlighted Features:
Compact design.
Durable construction quality.
Two-piece design.
Comes with a slow-close seat and cover.
5. TOTO Eco Ultramax Elongated One Piece Toilet
I already talked about the Ultramax II by Toto in this article. But the major flaw of that option was its price. However, if you do not want to spend an exorbitant amount of money to install toilets in your rental property, the Ultramax original by the brand should be a better fit.
After all, it shares a lot of similarities with the Ultramax II, so you will not be missing out on much. For one thing, it comes with the same white cotton finish as the Ultramax II. It features a ceramic construction which makes it just as durable as its upgraded model.
Powered by the G-Max Flushing System, the unit can deliver a powerful flush without making a lot of noise. It works quietly and uses only around 1.28 gallons of water per flush. So not only is it less annoying to use, but you will also end up saving on your water consumption.
It is a basic one-piece model that does not take up a lot of your bathroom space. You get a slow-close seat and cover with your purchase to prevent toilet seat slamming. Furthermore, the unit is compliant with all the safety and comfort standards as is expected from a brand such as ToTo.
Highlighted Features:
Features a stylish white cotton design.
Durable build quality.
G-Max flushing system delivers a powerful yet silent flush.
Conserves water while flushing.
6. KOHLER K-4007-0 San Souci Toilet
Kohler is another best toilet for rental property that you may have heard of when shopping for new toilets. The K-4007-0 San Souci by the brand is a compact model that is priced moderately. However, the performance it delivers is on par with high-end toilets that cost a lot more than this one.
This one-piece toilet takes up little space in your bathroom. IT features a round front bowl that makes it easy to set it up in a congested bathroom. The low-profile design of the toilet fits well with just about any studio apartment. So for rental properties, this model gets a lot of attention.
Though it has a single flush only, the flush mechanism is top-notch and ensures proper waste dispersal every time you use it. The bowl has an Aqua Piston Canister design that lets the water flow into it from all sides, enhancing the effectiveness of the flush.
It also does not consume too much water and should keep your water costs low. The only issue it has is its compact size which may not appeal to everyone. However, if that does not bother you too much, then you should have no issues with any of the other features in the toilet.
Highlighted Features:
Compact, round-front design.
Can fit in a small bathroom.
Powerful flushing mechanism.
Holds up to 1.6 gallons of water in the tank.
7. Kohler K-3998-0 Wellworth Elongated 1.28 gpf Toilet
I want to talk about another product from Kohler that might appeal to those who did not like the compact design of the K-4007-0. So, before you move on to another brand, I urge you to try out the K-3998-0 Wellworth. It features a different design which might be exactly what you are looking for.
The Wellworth, for one thing, features an elongated design. It has a 12-inch rough-in that makes it a bit bigger than the last product I reviewed. Naturally, it holds a bit more water in the tank, but then again, you will not be able to set it up properly if your bathroom is small.
The flushing mechanism in the unit is top-notch. Its Class Five system ensures the waste gets dispersed properly and thoroughly anytime you flush. Additionally, the elongated bowl of the toilet allows taller guys to sit on it comfortably while they go about their business.
Installation of the unit is also pretty simple. All you need to do is attach 3-bolts in the preset slots, and you are good to go. In addition, the price of this toilet is much lower than some of the other elongated options out there, making it a great pickup if you are short on budget.
Highlighted Features:
The elongated toilet bowl allows for more comfortable seating.
Fantastic flushing mechanism.
Easy to install.
Comes at an affordable price.
8. High-Efficiency Dual Flush Elongated All-in-One Toilet
I will wrap things up with one of the most affordable toilets out there if you are on a tight budget. But just because it is priced low does not mean the quality of this toilet is bad in any way. Created by Glacier Bay, this toilet is a fantastic pickup that offers you excellent value for your investment.
This one is a dual-flush toilet, which frankly caught me a bit off guard. It comes with a 1.1 GPF flush for liquids and a 1.6 GPF flush for solid wastes. Furthermore, the flushing mechanism works quietly, which greatly enhances your experience when you are using it.
The build quality of the toilet is also pretty decent, featuring a Vitreous China construction. It resists any sort of fading, cracking, and abrasions ensuring you get long use out of it without any issues. In addition, the bowl height is super comfy for people of any height.
It is a simple and straightforward toilet that gets the job done perfectly. Sure, it does not have many innovative features, but if you want a reliable toilet that works perfectly for a long time, this can be a great choice. IT also comes with a limited lifetime warranty, which is never a bad thing.
Highlighted Features:
Dual flush system.
Large and comfortable toilet seat.
Comes at an affordable price.
One-piece Vitreous China construction.
Different Types Of Toilets That You Can Use At Your Rental House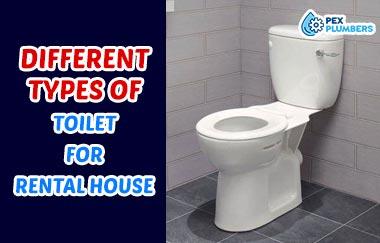 Typically, there are two types of toilets that you may find at a rental house, one-piece, and two-piece. Though there are a lot of other toilet types out there, you will not find them at a rental house that is compliant with housing standards.
So, I will not talk about them here. Instead, let me give you a quick rundown of one-piece and two-piece toilets that are commonly used in rental houses.
1. One-Piece Toilets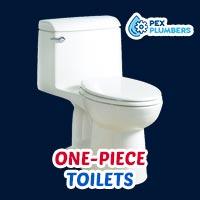 One-piece toilets, as the name suggests, have the water tank and toilet bowl attached together. These toilets are commonly found in rental homes and are pretty easy to install by yourself. The main advantage of this type of toilet is that they are extremely easy to clean and typically compact.
2. Two-Piece Toilets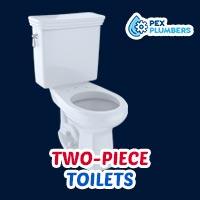 Two-piece toilets, on the other hand, have the toilet bowl and the tank separated. You need to attach the two components together when you are setting it up. Needless to say, this makes installation a lot more difficult. However, these toilets last a lot longer than one-piece toilets.
Frequently Asked Questions
1. Are dual flush toilets better than single flush?
Not necessarily. Both dual and single flush toilets can be a great option for rental properties. The only difference between the two is that with a dual flush toilet, you can flush twice in a row.
But if the flush mechanism is strong enough, a single flush toilet is not in any way inferior to a dual-flush toilet.
2. Should I go with one-piece or two-piece toilets?
It really does not matter too much whether your toilet is one-piece or two-piece. Performance-wise, it does not make too much of a difference. However, if you are planning to install the toilet yourself, going with a one-piece toilet is better as it can be installed pretty easily on your own.
3. How much does it cost to install a new toilet?
Other than the cost of buying a new toilet, you also might need to think about installation costs. If you are not comfortable with installing the toilet yourself, I would recommend hiring a professional plumber to do the job for you.
Different plumbers charge different amounts, but typically the cost of installing a toilet range from 20 to 40 dollars.
4. Is it difficult to install a new toilet?
It depends on the design of the toilet. Some toilets come with pre-drilled holes at the bottom, and you simply need to bolt it down to the floor to get it working. However, some toilets require extensive knowledge of plumbing to install correctly. That is why I always recommend hiring a plumber if you do not know what you are doing.
Final Thoughts
Sure, a good toilet is not that cheap. But if you know what to look for, you can get a good value on your investment. Besides, a good toilet is a must-have for any household, and you as a landlord should never overlook this.
I hope my article on the best toilet for rental property could help you figure out which toilet is better for your investment. Good luck!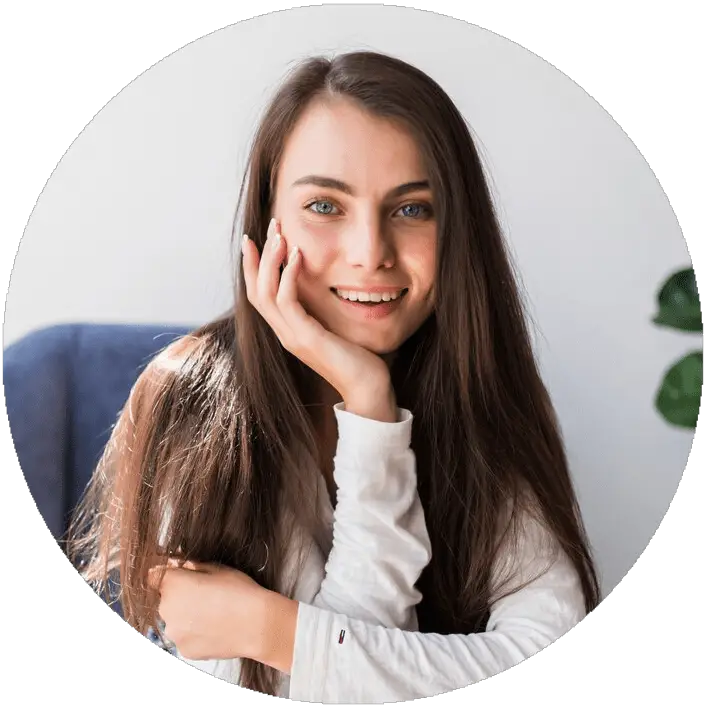 Hey! I'm Leanda Bailey. I'm here to explain every plumbing installation and repair you may have in your kitchen or bathroom. Also, I'll try to find you the best products on the market for your plumbing work.