Are you a professional plumber, DIY enthusiast, or a homeowner who fixes all the projects by yourself? If yes, then you need to get a soldering torch in your toolbox.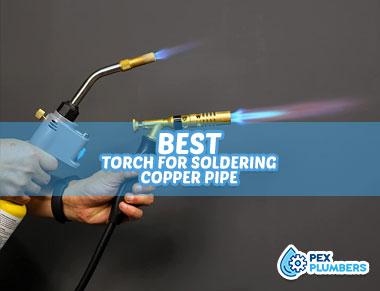 Soldering torches have almost completely replaced soldering irons. Because, not only are they more convenient to use, but also you get to solder copper pipes with more precision.
With these torches, you can fix all the copper pipes in your workshop and home efficiently.
But if you are new in this field, finding the best torch for soldering copper pipe can get difficult. While the plethora of torches, fuel options, and accessories can make you overwhelmed, our detailed review will definitely help you.
We have discussed everything you need to know about soldering torches. Yes, from types of torches to the top brands and factors you need to keep in mind, you'll find all the details here.
So, let's dive in!
| | | | |
| --- | --- | --- | --- |
| | | | |
| | Bernzomatic TS8000 Trigger Start Torch | | |
| | Blazer GT8000 Butane Torch | | |
| | LEXIVON Butane Torch Multi-Function Kit | | |
| | Dremel 2200-01 Multi-Function Butane Torch | | |
| | BLUEFIRE HZ-8388B Gas Welding Torch | | |
Types Of Copper Pipe Soldering Torch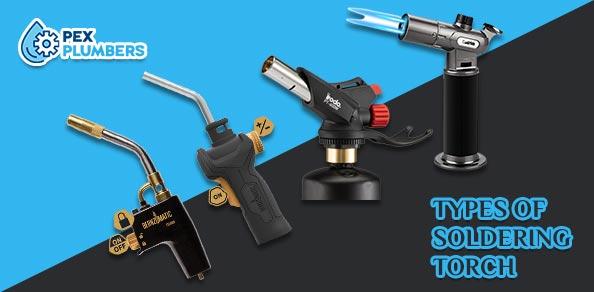 A good-quality torch can change your soldering experience for the better. However, there are a variety of torches that use different fuels and require specific tools.
Therefore, to get your hands on the best soldering torch for plumbing, you need to get familiar with the types of soldering torches.
Primarily there are four kinds of torches you can use for soldering. So, let's get to know them.
1. Propane Torch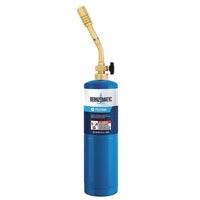 Okay, so propane torches are probably the ones you first heard about when searching for soldering torches. There are a few reasons behind its popularity.
First of all, propane torches are fairly inexpensive. You can also learn their mechanism easily. And they provide effective soldering results and strong joints. Hence, both professional plumbers and DIY workers love it.
LPG or propane torches will give you a maximum of 3623 degrees Fahrenheit temperature. You can efficiently join 1/2 inch or 3/4 inch copper pipes and fixtures using this torch.
Also, these torches can be used with disposable fuel tanks. Remember that you'll need to get sandpaper, fuel tank, flux, and solder to use a propane tank.
2. MAPP Gas Torch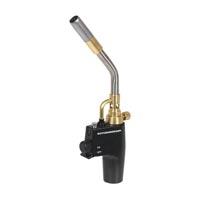 If you are soldering a large pipe and require more heat, MAPP gas torches are for you. These torches don't require any complex mechanism. And they will give you more heat than propane.
This torch only needs 5-10 seconds for heating a copper pipe appropriately. It provides more than 3700 degrees Fahrenheit temperature.
The single tank construction also increases ease of use. That's not all, you can use this torch for brazing brass and copper too.
Relevant post >> How Long Does Pex Piping Last
3. Acetylene Gas Torch
This is a more complex torch. You need professional-level skills to use them because they provide a temperature so high that can burn through your metal pipes.
However, it does provide much stronger joints than propane or MAPP torches. And the use of acetylene gas protects the joints by preventing oxidation.
We recommend getting professional training before going for acetylene torches. These are mostly used for bigger projects like HVAC repair, fixing air conditioning systems, etc.
4. Butane Torch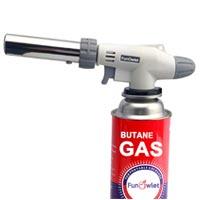 Well, butane torches are the most popular soldering torches right now. Before, these were mostly used in professional kitchens and jewelry shops.
As they provide surprisingly great soldering results, people have started to use them as soldering torches too. These can get up to 2610 degrees Fahrenheit. This is enough for soldering a 2-inch copper pipe.
The only drawback is, that the soldering task will take a little longer. In about 25 seconds the copper joints will reach the required temperature. Another great feature of this torch is that you can get very precise soldering done.
So, if you do small plumbing projects around the house, This torch will be great for you.
Relevant post >> Can Dremel Cut Metal? Dremel Tips For Metal
List Of The Best Soldering Torch in 2023
1. Bernzomatic TS8000 Trigger Start Torch
When soldering copper pipes of large diameter, you will need a torch that creates intense and impressive heat energy. And that is what the Bernzomatic TS8000 Trigger Start Torch gives you.
This torch generates up to 3000 degrees Fahrenheit heat with MAPP Pro fuel. That along with the powerful swirl flame makes it the best torch for soldering copper pipe.
Moreover, the adjustable control switch gives you complete control over the flame length. So, you can easily generate different levels of heat suited for various purposes such as welding, heat treating, and even brazing.
Bernzomatic TS8000 features a super convenient automated ignition. Gone are the days of using spark lighters. You get a blazing flame instantly with the push of a button.
When you are soldering larger diameter pipes, a continuous flame is required. But holding on to the starting switch for a long time can become extremely tiring.
The run-lock button of this torch solves this problem for you. Start the flame and click this button to get a hands-free continuous flame.
That's not all, it includes precise pressure regulation technology. So the flame will stay consistent even when the torch is tilted. It also allows you to solder joints in hard-to-reach places.
With this MAPP Pro fuel torch, all your soldering tasks will become super fast. And the cast aluminum body ensures that you get to use it for a long time.
Highlighted Features:
This torch works with MAPP Pro Fuel.
It features an automated ignition system.
Includes adjustable knob for flame control.
The lock button provides a continuous flame.
Produces supreme heat using ultra swirl blaze.
2. Blazer GT8000 Butane Torch
Next, we have a copper soldering torch that has been a constant companion of plumbers since 1985. Yes, it's none other than the Blazer Butane Torch.
Are you looking for a soldering torch that can be used in outdoor projects where electricity is scarce? Then look no further! This torch features a piezo electric ignition system.
It can instantly ignite the flame without any external electric connection. That means you can take it with you on field projects too. And the gas flow adjustment system and high temperature make it great for all types of soldering projects.
Safety is an important issue while working with open flame tools. This torch includes a brass nozzle. So, the entire torch becomes anti-flare, and the blowout rate decreases.
Moreover, the fuel tank is surrounded by nylon resin. This gives you a sturdy grip on the tank and prevents accidents. You also get a manual ignition lock for when the torch is not being used.
What's more, the wide base allows you to keep the torch upright. It's extremely important as you can never put a flaming torch on the ground.
Let's not forget the angled head and over 2000 degrees Fahrenheit temperature. You can get up to 35 minutes of continuous use with a flame as high as five inches.
However, the manufacturers recommend using this torch only in professional settings.
Highlighted Features:
This torch has a durable alloy steel body.
The anti-flare nozzle ensures safety.
Gas flow adjustment knob for flame control.
Features super fast piezoelectric ignition.
Wind-resistant flame can be used indoors and outdoors.
3. LEXIVON Multi-Function Kit
Meet the most versatile soldering torch kit. Yes, the LEXIVON Torch comes with 12 accessories that provide unmatched versatility.
You get a cordless torch, six torch tips for various plumbing work, a cleaning sponge, a carrying bag, and all the tools for assembling the torch.
With this kit, you can perform pipe brazing, wire soldering, jewelry building, shrinking, and even culinary work. That's not all, you can safely cut through heat-sensitive materials.
We know it's annoying and inconvenient to stop the soldering and refill your tank frequently. To save your time, this torch comes with a large fuel tank that will give you up to 2 hours of soldering time.
Even if the fuel burns out completely, you only need 15 seconds to refill the tank. This along with an electronic ignition system makes it the best soldering torch for plumbing.
What's more, the ergonomic design makes this torch user-friendly. The detachable table base lets you do other tasks while the pipe is being soldered. Just turn on the flame lock and position it properly.
You will be amazed at the durability of this industrial-grade metal torch. These torches are pre-rested for leakage. They also include an ignition stopper that ensures ultimate safety.
Overall, a larger fuel tank, advanced features, and versatile usage make it a go-to torch for soldering copper pipes.
Highlighted Features:
You get two hours of non-stop run time.
Can be used for various projects.
Flame-lock system increases ease of use.
The wireless design increases portability.
It offers leakage-proof hands-free operation.
4. Dremel Multi-Function Torch
As you can see there are several amazing torches available in the market. But not all of them are compact and meant for home usage.
Finding a copper soldering torch that will be suitable for home and small workshop usage can be somewhat difficult. The Dremel Multi-Function Butane Torch is a game-changer in this field.
This butane micro-torch comes with an array of excellent features. You will get a nine-piece accessory kit with it. Using the different tips, you can work on circuit boards, heat-sensitive insulations, and solder copper pipes.
Another great feature of this torch is its user-friendly design. This comes with a built-in trigger ignition system. So, you don't need any external sparker tools.
Let's not forget the removable base and flame-lock switch. These little additions provide you with hands-free and cordless soldering operations.
Furthermore, the combination of an air control switch and flame control slider allows you to use variable temperatures. By controlling the temperature you can use it for wood burning, stencil cutting, leather crafting, etc.
Lastly, a large fuel tank means you don't have to refill in the midst of a project. And for longer projects, you can refill super quickly using the fast filling valve.
If you want a compact then that is easy to use and offers versatile usage, this is a great option.
Highlighted Features:
This kit includes nine soldering accessories.
It offers flexible temperature settings.
The metal body can withstand heavy usage.
Safe to use around electrical wiring.
The air control switch allows flame control.
5. BLUEFIRE HZ-8388B Gas Welding Torch
Looking for a high heat pipe soldering torch that can also braze hard-to-reach places? Then definitely check out the BLUEFIRE HZ-8388B Gas Welding Torch.
This self-igniting torch not only includes a three-inch hose but also comes with a pre-filled gas cylinder. The three-inch hose gives you enhanced flexibility. Now, you can safely and conveniently solder the odd angles and shallow places too.
The 16 fl oz cylinder comes filled with advanced BLUEFIRE MAPP gas. You get 14% bonus fuel and also the highest temperature. Yes, this modern MAPP gas provides you up to 3600 degrees Fahrenheit temperature.
That's not all, this superior temperature makes brazing and soldering 30% faster. As a result, you get to finish more projects in less time than ever before.
No matter what needs fixing, this torch and cylinder duo will get the job done. From high-temperature soldering, brazing pipes, hardening steel, melting metals, thawing pipes, and various other home and industrial tasks, there is little you can not do with this.
Moreover, you can use propane and traditional MAPP gas with this torch too. Another great addition is the clip that allows you to hang the cylinder and get more control over the hose.
DIY workers, homeowners, and professionals will love the versatility and convenience of this torch. So, jumpstart your projects with this excellent torch-cylinder package.
Highlighted Features:
The three-inch hose increases flexibility.
2642°F. Temperature is great for soldering.
It comes with a 16 fl oz gas cylinder.
The swirling flame reduces brazing time.
Prevents flame blow-out accidents.
6. Power Probe MT Micro Torch
The Power Probe MT Micro Torch is the lightest on this list. This plumbing solder torch weighs only 0.5 lbs. Therefore, you won't be fatigued even if you are working on soldering projects for a long time.
This butane-powered torch comes with industrial-grade features and an ergonomic build. It features a textured handle that gives you a comfortable grip.
You can use this for more than just soldering. It provides up to 2500 degrees Fahrenheit temperature. This high temperature is great for home as well as automotive use.
Another handy feature is the electric ignition system. It allows you to quickly ignite the torch. Also, the inconvenience of carrying around a lighter is removed.
Different heating projects require different temperatures. And overheating can cause damage to important pipes and wires. The flame adjustment switch of the MT micro torch solves this problem.
Furthermore, you get precise control over the flame length. The flame can be increased up to two and a half-inch length. This feature makes it ideal for various soldering tasks.
Not only that this torch comes also with a refillable large butane tank. As a result, you can get up to two hours of flame with a filled tank.
Overall, this is one of the best plumbing torch options that offer you versatile usages such as brazing, soldering, plastic molding, and many more.
Highlighted Features:
This is a refillable torch.
Comes with an electronic ignition system.
It gives you a 2 1/2-inch long flame.
Offers 950°F for copper soldering.
High portability increases ease of use.
7. RONXS Butane Refillable Industrial Torch
The RONXS Butane Refillable Industrial Torch is a sleek advanced torch that gives you premium features at an affordable price.
Enjoy the latest switch design along with a fully automated ignition system. Simply press the ignition switch and get a consistent burning flame.
This torch also includes an advanced control valve. Using this valve you can control the airflow into the open flame. As a result, you can ensure extremely powerful or moderate flame depending on the project.
You can generate up to a six-inch high flame with this torch. And the 2500 degrees Fahrenheit temperature will allow you to do almost all soldering tasks.
Another useful feature is the large capacity tank. It can hold up to 28 grams of butane gas. So, you will get about 30 minutes of soldering done with a filled tank.
You can use it for other projects that need flame heating too. The adjustable flame makes it convenient for DIY welding, jewelry creation, tile laying, plumbing, cooking, etc. What's more, it's so safe that it's used in dental labs too!
Let's not forget the high-quality metal construction of this torch. You also get a stable base that keeps the blow torch upright. This prevents any accidents that can occur from the flaming torch from tipping over.
Highlighted Features:
This soldering torch provides high versatility.
Offers adjustable flame size and length.
30 minutes of continuous use with a filled tank.
The detachable base increases stability.
Heavy-duty metal body for ensuring durability.
8. Bernzomatic BZ8250HT Trigger-Start Torch
If you are someone who needs to do soldering and plumbing work in hard-to-reach places, the Bernzomatic BZ8250HT Trigger-Start Torch is the best torch for soldering copper pipe.
This torch comes with a five-feet long hose. So, you get to reach all the joints and fixtures with maximum mobility. And professional plumbers love this torch for the excellent accessibility the hose gives.
Another feature that makes it great for a variety of projects is the swirl flame. Yes, you get a high-intensity swirling flame with this torch. This targeted flame allows you to do soldering, melting, and thawing projects efficiently.
It also features an instant trigger ignition system. Therefore, you can operate this torch using one hand too.
Also, you get the flexibility of using both propane and MAPP gas with this torch. You can use propane for small diameter soldering and MAPP for when you need a hotter temperature.
What's more, the flame control knob ensures an easy transition between different applications. We can't forget the brass regulator. It allows you to point the flame in any direction with the same consistency.
Lastly, you get a belt holder for hanging the fuel tank. This not only minimizes pressure off of your hands but also gives you more control to do the soldering.
Highlighted Features:
Great for both DIY and professional use.
The five feet hose gives you high accessibility.
Added convenience with the belt holder.
Swirl flame provides intense heat.
Gives you a choice between propane and MAPP.
9. Sondiko Big Butane Double Flame Torch
Soldering torches can be expensive. But going for low-priced ones can increase safety risks.
Don't worry. The Sondiko Big Butane Double Flame Torch gives excellent features at an affordable price range without compromising on safety.
The most exciting feature of this torch is the unique double flame design. Using the two brass nozzles you can get up to six inches long double flame. Also, the maximum temperature is 2372 degrees Fahrenheit.
As we said, this torch doesn't compromise safety or quality. It is built with temperature-resistant brass which is highly durable.
Moreover, this includes a child safety lock. This along with the wide table base prevents accidental ignition and keeps your family safe.
Another amazing feature is the piezoelectric ignition system. You only need to rotate the airflow valve and press the ignition switch. And your butane torch will instantly light up.
Apart from soldering, this torch is also great for culinary tasks. Unbeatable flame consistency, instant safe ignition, and flame control are ideal for both home and professional cooks.
Furthermore, refilling is quite easy as you can use any brand of butane gas. And this torch has the capacity to hold 24.4-gram butane gas at a time. However, you will need to use the long refill tip.
If you are looking for a budget-friendly torch that will also offer good soldering features, then this Sondiko torch is a great option.
Highlighted Features:
This soldering torch is easy to refill.
The maximum temperature is 2370°F.
Lightweight but sturdy metal construction.
You get 35 minutes of work time.
It features a double flame.
10. Ivation Trigger Start Propane Torch
Many people prefer traditional propane torches over butane or MAPP ones. If you are one of them, check out the Ivation Trigger Start Propane Torch.
This propane-powered copper welding torch weighs only 0.8lbs. The lightweight build makes it perfect for working on various projects around the house.
You'll be amazed at the powerful temperature this tiny torch provides. Yes, the propane fuel gives you reliable heat up to 2372°F.
This heat makes it great not only for soldering but also for plumbing, light welding, metalsmithing, and glassblowing.
Furthermore, you can get instant flame whenever you need it. This trigger start torch has an ignition button that creates powerful flames in seconds.
Another feature that increases the flexibility, is the dual compatible assembly. You get to choose between a US thread valve or CGA 600 for getting gas. You can also change the burner tube and the torch will work as well as new.
That's not all, this torch has a switch for adjusting the flame. With the turn of a dial, you can control the intensity and length of the flame. This allows you to do precise soldering work.
Not to mention, this propane hand torch is safer for home usage than MAPP and butane. As propane torches have been around for a long time, their safety features are more solid.
All these amazing features make this the best propane torch for soldering copper pipe.
Highlighted Features:
This propane torch features a trigger-start.
It gives you 2372°F blazing flame.
Comes with a replaceable burner tube.
The minimum flame length is 4.7 inches.
Compatible with both CFG and thread valve.
| | | | | |
| --- | --- | --- | --- | --- |
| | | | | |
| Bernzomatic TS8000 High Intensity Torch | | | | |
| Blazer GT8000 Big Shot Butane Torch | | | | |
| LEXIVON Butane Torch Adjustable Flame | | | | |
| Multi-Function Butane Torch by BOSCH | | | | |
| BLUEFIRE Gas Welding Torch | | | | |
| Power Probe MT Micro Torch | | | | |
| | | | | |
| Trigger-Start Torch by Bernzomaic | | | | |
| | | | | |
| Ivation Trigger Start Propane Torch | | | | |
Things to Know Before Buying The Best Torch for Soldering Copper Pipe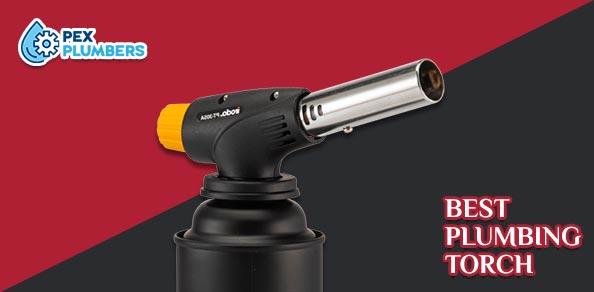 Type
So, you have decided to get a copper pipe soldering torch, but which type? The first thing you need to decide is the type of torch you want. This depends on what project you intend to use the torch on.
The most common torch is the propane torch. These are easier to use and beginner-friendly. If you have small soldering projects, this will be great for you.
While acetylene torches provide stronger joints, they are harder to master. You will need more skills for using them.
What if you need more heat than propane torches, but don't want to go for acetylene torches? In such a case, The best mapp gas torch you will love.
Mapp gas is essentially modified propane. But it provides a much higher temperature for soldering.
So, choose a torch that will suit not only your project requirement but also your skill level.
Ignition System
Next, you need to consider the ignition system. Most soldering torches come with built-in igniters. You can also use lighters or even a match to ignite your torch.
But the most convenient are those that include an instant ignition switch. You simply have to turn the switch on to ignite the torch. This system makes stopping the flame easier too.
If you are new at this, we'd recommend going for torches with an instant ignition system. These are much safer and easier to use.
Build Material
The quality of your soldering torch depends on the material it's built with. Steel-bodied torches are more heavy-duty. But they are much heavier too.
Aluminum torches are preferred by experts as they are both sturdy and lightweight.
But aluminum torches are on the expensive side. If you don't care much about the weight, then go for steel ones.
Adjustable Flame Length
Another important factor to look for is having a flame adjuster valve on your torch. This valve controls how much gas you are releasing. If you increase the gas, the flame length increases.
For soldering, you need a high-length flame. But some smaller projects may need a shorter flame to work precisely. Hence, having a flame adjuster valve is absolutely necessary.
Temperature
You don't really need that high of a temperature to solder copper pipes. Also, you should be cautious about overheating the metal.
Propane torches can give you up to 3600 degrees Fahrenheit which is more than enough for soldering. Generally, copper only needs about 600 degrees Fahrenheit to be soldered.
Safety
Tools with open flames can be extremely dangerous. And low-quality torches are more accident-prone. Faulty sparkers and the absence of a safety lock can result in terrible accidents.
Also, avoid buying torches with complex functionality if you are not skilled to use them. This can end in ruining your project and burning yourself.
So, invest in a good quality torch that comes with safety features. Always take proper precautions while working with soldering torches.
Additional Features
For achieving higher accuracy while working on a smaller area, swirling flame can be of great help. This feature provides concentrated heat in a small area.
Also, some torches include a boost trigger. If you are soldering larger pipes this will be helpful, because you can raise the mapp gas level instantly and increase the heat.
Frequently Asked Questions (FAQ)
1. How Long Do I Wait After Soldering The Copper Pipe?
Answer: Pressurizing the pipe without waiting at all can result in solder cracking. Therefore, you should wait at least two to three minutes after soldering the copper pipe. During this time the solder will cool properly.
2. What Temperature Is Needed For Plumbing Torch?
Answer: Different plumbing torches offer different temperatures. However, the best plumbing torch should provide more than 3600 degrees Fahrenheit temperature in the open air.
3. Is Flux Necessary For Soldering Copper Pipe?
Answer: Yes, flux is necessary for soldering copper pipes. Strong metals like copper need an artificial acid flux for being properly soldered. The flux prevents oxidation and protects the metal from corrosion.
4. How To Clean The Torch After Soldering?
Answer: Clean the outer body of the torch. Then take out the hose and handle of the torch. Wipe them using a cloth or paper towel. Put them back on and start the mapp gas. This will remove any leftover fumes from the torch.
5. What Happens If I Overheat The Copper Pipe?
Answer: When you overheat the copper pipe while soldering, the flux will get burnt. Burnt or oxidized flux not only stops working but also acts as a barrier. As a result, the bond won't form between the pipe surface and filler metal.
6. Can I Solder Copper Pipe With Butane Torch?
Answer: Yes, Butane torches provide up to 2500 degrees Fahrenheit temperature. This along with the six-inch flame can easily solder copper pipes.
Final Word
Having a soldering torch is a must if you want to solder copper pipes. This tool will take your soldering quality to the next level. However, determining which torch is ideal for your project can be confusing.
Proper knowledge about the features that copper soldering torches must have can make this task less difficult. And this review gave you all the details you need to know to find the best torch for soldering copper pipe.
If you still have any doubts, our FAQ section will clear them. So, choose the torch most suited for your project.
Lastly, remember to get a torch that matches your skill level. And always follow safety measures while working with an open flame.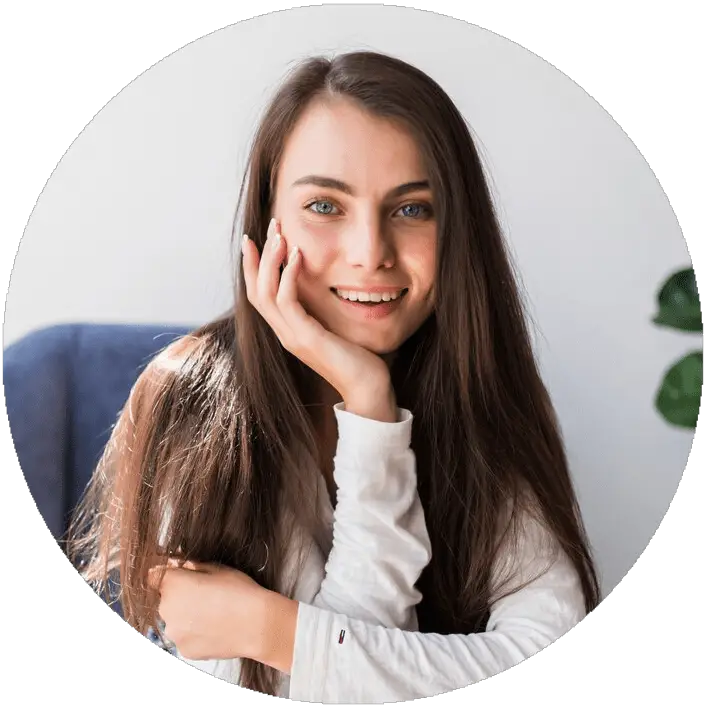 Hey! I'm Leanda Bailey. I'm here to explain every plumbing installation and repair you may have in your kitchen or bathroom. Also, I'll try to find you the best products on the market for your plumbing work.