Top loading machine smells like rotten eggs? Having your laundry come out smelling like rotten eggs can be a frustrating experience. There are several reasons why your top load washer smells, and addressing the issue can help prevent further problems. In this article, we will explore the possible causes of why your top load washing machine smells like rotten eggs and offer some practical solutions to make your laundry room feel fresh again.
Front load washer smells like rotten eggs
Front loading washing machines are more prone to developing a foul smellcompared to top-loading machines. This is primarily due to their design, which includes a door sail rubber that can trap moisture and detergent residues. 
Front loading washing machine has a horizontal washer drum that tumbles the clothes through a small amount of water. 
The top loading washing machine has a vertical washer drum and agitator that lifts and drops clothes through a larger amount of water.
This design can sometimes be less prone to mold growth, but the issue can still occur.
Front load washers have an airtight seal, which helps to prevent water leakage during the washing cycle. However, that doesn't stop it from also trapping moisture inside the machine.
Neglecting regular cleaning and maintenance of the front load washing machine can contribute to foul odors. Failure to clean the drum, rubber gasket, drain lines, and filters allows bacteria and mold to build up over time. To prevent this from happening, make sure to leave the door of your front load washer open after each use.
Why your washer smells
It's annoying when you find your washing machine smells like rotten eggs or sewage.
A common cause of a rotten eggs smell is that soap scum and other organic matter can build up inside. Soap residue and materials can provide a breeding ground for bacteria and other microorganisms, which can produce hydrogen sulfide gas. This gas smells like rotten eggs and can give your washing machine an unpleasant odor.
Another common cause of a smelly washing machine is mold spores. If moisture is trapped inside the machine, mold can grow on rubber seals and other parts. This can lead to a bad smell that can be difficult to get rid of.
Check inside the washing machine
If your washing machine smells, you should start tackling the problem by checking the inside of your washing machine.
There may be several areas where odor-causing substances can build up.
The washing machine has rubber parts (see photo below). In that area, any clothes or small items that you accidentally left behind in your bag or purse often get trapped. When it's hot, they become damp and cannot escape. You can then pull the rubber component back towards you to inspect it.
LG 4.8 Cu. Ft. White top load washer
If you own an LG 4.8 Cu. Ft., it is worth noting that some users have reported experiencing a smell of rotten eggs with this particular model. The issue seems to be related to a design flaw in the machine's drain system, allowing the buildup of stagnant water and bacteria.
If your LG washing machine smells like rotten eggs, try to find where the smell is coming from.
Check the drain plug
Another reason why the washing machine smells like rotten eggs is a clogged drain plug. This plug is typically located at the bottom of the machine and can become clogged with lint, hair, and other debris over time.
If so, water can become trapped inside the machine, leading to mold growth and a bad smell similar to a rotten egg odor.
To inspect the drain plug, first, power down the machine and disconnect it from the electrical outlet.
Find the drain plug and detach it from the appliance. Give it a thorough cleaning using soap and water.
Sewer gas is causing the washing machine smells
In some cases, the washing machine smell may not be originating from your washing machine. The rotten egg smell coming from your laundry may be a sewer smell.
In other words, it could be a sign of a larger problem in your sewer system.
Sewer gas can sometimes enter your washing machine through faulty plumbing or a damaged p-trap. To avoid a negative outcome, it would be better to replace the cracked p-trap.
How to prevent the rotten egg smell
Preventing a rotten egg odor is much easier than getting rid of one. Here are some pointers to avoid your washing machine developing a foul odor resembling rotten eggs:
1. Optimal detergent use. Overusing laundry detergent can add to the accumulation of mold and bacteria in the washing machine.
2. Load the washing machine carefully. Steer clear of overfilling the washing machine, as doing so can trap surplus moisture and hinder effective cleaning.
3. Remove clothing promptly. Take out your clothes as soon as the washing cycle is complete and inspect the door seal of your washing machine for any debris, lint, or stray garments that may have gotten stuck.
4. Ventilate the washing machine. Keep the lid open when the machine is not in use to promote air circulation.
5. Run a clean cycle. Many modern washing machines offer a self-cleaning feature. Regularly utilizing this option helps maintain a fresh machine.
6. Inspect and clean your drain plug or pump. Routinely check and clean the drain plug and pump of your washing machine to prevent unpleasant odors.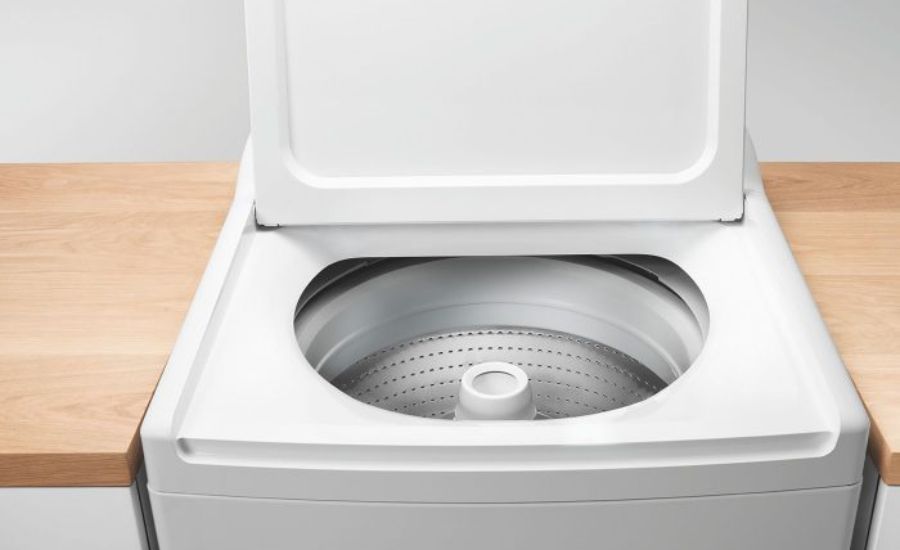 How do I get the rotten egg smell out of my washing machine?
If already your washing machine smells like rotten eggs, don't worry. There are a few steps you can take to get rid of the unpleasant odor coming from your smelly washing machine:
1. The odor may also be originating from your sewer system.
Though the origin of the odor frequently ties back to the washer itself, it's important to rule out any issues with your home's sewer system. Get in touch with a professional plumber to inspect your plumbing system and ensure that everything is functioning properly.
2. Bleach cycle.
Running a bleach cycle can help eliminate the offensive smell from your washing machine. Begin by adding one cup of bleach to either the detergent tray or directly into the machine drum. Run the machine on its hottest setting without adding any clothes.
How do I get the rotten egg smell out of my top-load washer?
To eliminate the odor in your top-loading machine, you can pursue these steps:
Fill the drum with hot water
Add two cups of distilled vinegar or 8 tablespoons of baking soda to the water
Run a full wash cycle without adding any clothes
Once the cycle is complete, leave the lid open to allow the machine to ventilate and fully dry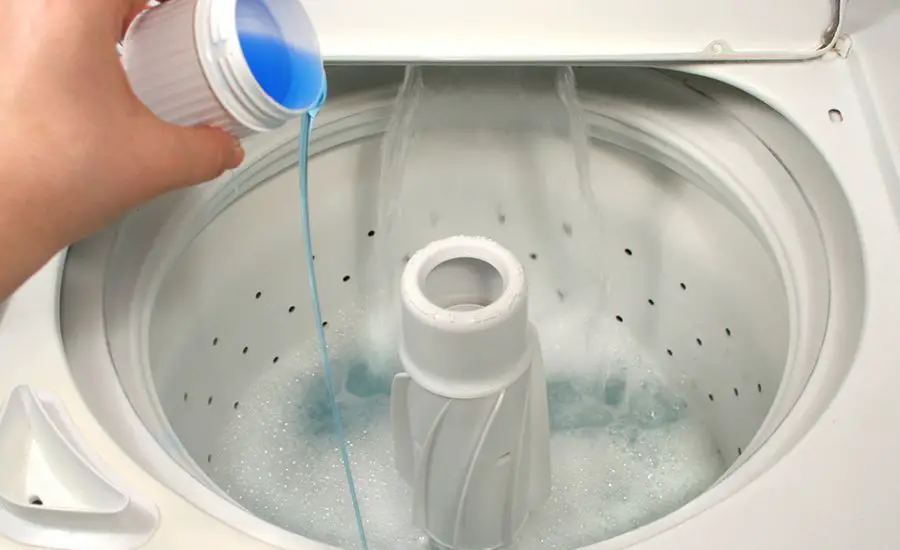 Why does my washing machine smell like rotten eggs when it runs?
If your washing machine starts to smell like rotten eggs when it is running, it might be attributed to the presence of hydrogen sulfide gas. This gas is produced when bacteria in the drain hole or drain plug hole react with sulfur, a common component of water supplies.
If your washing machine releases an unpleasing smell while in the spin cycle, it's probable that the issue stems from the drain hose.
Inspect the hose for any blockages or debris, and thoroughly cleanse it using soap and water.
Additional recommendations for preventing an odorous washing machine
Clean the rubber seal.
The rubber seal encircling the washing machine door can accumulate dirt and moisture, fostering mold growth and an undesirable scent. Regularly wipe the seal with a cleaning solution or a mixture of vinegar and hot water.
Clean the washing tub.
Similar to the rubber seal, the washing tub can also amass mold and bacteria. Routinely cleanse the tub using hot water and a mild cleaning solution to thwart the buildup of unappealing odors.
Run a sanitary cycle.
Running a sanitary cycle can exterminate bacteria and mold. Choose the maximum water temperature setting available and sanitize the detergent tray with bleach.
Baking soda and distilled vinegar. Blend equal parts of baking soda and distilled vinegar to create a paste. Spread the paste inside the washing machine drum and let it sit for 30 minutes. Then, run a normal cycle without any clothes to cleanse the machine.
Bleach. Pour half a cup of bleach into your washing machine and run it on the hottest water setting feasible. This will aid in eradicating any bacteria responsible for the odor.
Acquire a washing machine cleaner from a store and adhere to the instructions on the packaging to cleanse your machine.
Be sure to remove all traces of laundry soap, debris, and other residue from your washer at least once a month.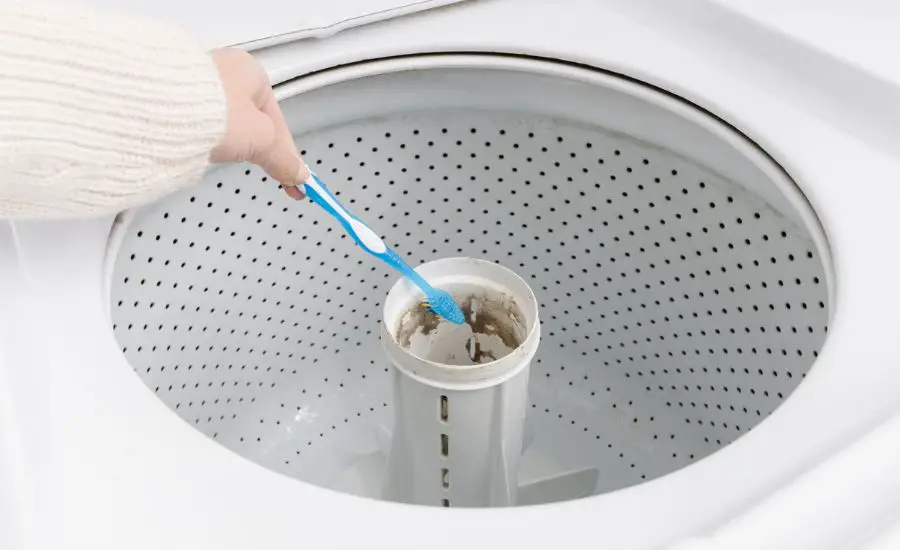 Regular maintenance
Consistent upkeep is essential to avoid your washing machine developing a foul odor reminiscent of rotten eggs. Here are a few pointers for upkeeping your washing machine:
Regularly clean the lint trap and drain filter, or replace the drain filter before reattaching the cover plate
Inspect the drain hose and drain plug for any obstructions or clogs
Employ the correct quantity of laundry detergent to forestall the accumulation of soap scum
Opt for the hottest setting when laundering your garments
After every use, keep the washing machine door ajar to facilitate air circulation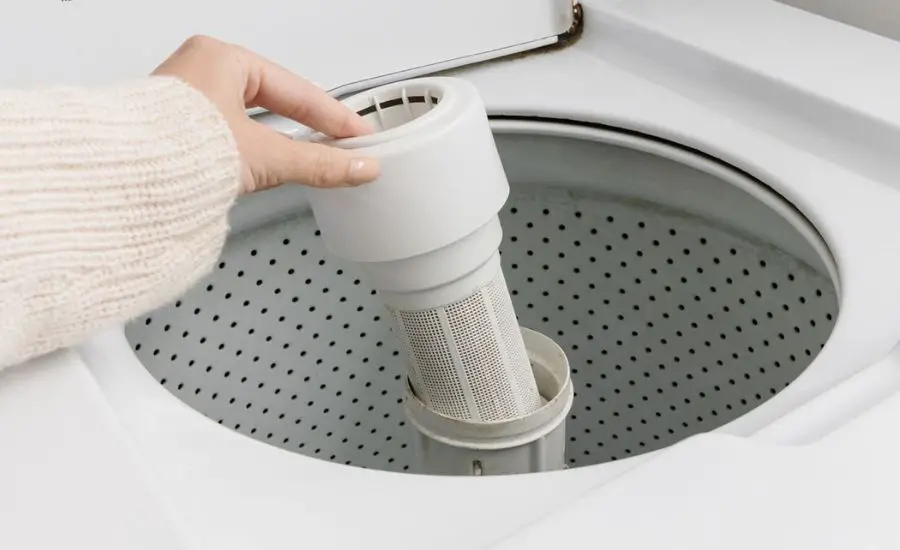 Conclusion
If your top loading washing machine smells like rotten eggs, it can significantly detract from your laundry process. By pinpointing and resolving the origins of this unpleasant odor, you can guarantee that your laundry emerges crisp and free of any smells.
Regularly cleaning the drain plug, inspecting for mold growth, and performing preventive maintenance will help your laundry room regain freshness and eradicate the rotten egg smell coming from your washing machine. Using the previously mentioned cleaning methods, you won't have the odor of rotten eggs anymore.