Generally, the heating pipes have excellent thermal conductivity. In fact, they're amazing at holding and carrying the heat from hot water pipes. But why do they need to be insulated then?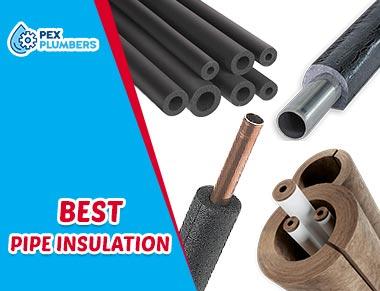 It's because they lose heat which could result in poor energy efficiency. You could lose up to 40% energy without proper insulation while also paying higher utility bills!
There're thousands of more reasons why you should be insulating your pipes! But the question for which you're probably here is, "what's the best pipe insulation to consider for your heating pipes?"
Well, you've landed in the right place as this article answers it all. Besides recommending pipe insulations, we'll also cover different aspects of it.
These aspects will help you make the right buying decision. Let's start!
| | | | |
| --- | --- | --- | --- |
| | | | |
| | M-D Building 50164 Pipe Insulation | | |
| | Frost King CF42X Foil Backed "No Itch" Pipe Wrap | | |
| | Foam King Pipe Insulation for 1/2 inch copper pipe | | |
| | URBEST Pipe Insulation Tubing | | |
| | Frost King IT30/8 Rubber Insulation Tape | | |
What is Pipe insulation, and What are The Benefits of Using it?
Your pipes can lose heat and energy, which isn't good news. So something has to be used to retard this flow of heat or energy in the pipes.
This 'something' is known as a pipe insulator that is wrapped around the pipe to preserve the temperature inside it. The pipe insulator is found in different materials and forms. We'll talk more about that later. But for now, let's talk about its benefits.
The cold air can freeze the pipes and expand the fracture, resulting in pipe bursts. This will eventually lead to big structural damage, especially in unheated areas where the pipes remain exposed, like exterior walls and basements.
As a result, you end up with a hefty repair! So you see, pipe insulation is a big savior for any home and construction.
Relevant posts >> How To Bend PEX Pipe: Best Way Discussed [With VIDEO]
That's not all, we'll be checking out more of its benefits, and it's a big list, to be honest! Let's take a look at some of the key ones here:
The insulation stops freezing of the pipes by holding as much heat inside of the pipe in below-freezing conditions. The cold water pipe insulation also prevents the buildup of mold, mildew, and condensation on the piping.
The insulation of the exposed hot water pipes helps reduce the loss of temperature from the heater to the faucet.
Hot pipe insulation safeguards against elevated temperatures and is also a great way to prevent accidental burning.
Pipe insulators help maintain temperature for better process control.
They also help absorb and reduce operational noise.
Top 10 of The Best Pipe Insulation in 2023
1. Frost King CF42X Natural Cotton Pipe Wrap
Looking to insulate the pipe on your AC unit? Or do some DIY home insulation? How about natural insulation from an industry-leading brand? We're talking about Frost King and its amazing natural cotton pipe wrap. See more of it here.
We know you want to insulate the pipes on your own but not end up with itchy hands. Well, this cotton pipe wrap is made of natural, customized materials. You don't even require gloves, masks, or goggles during its installation.
Relevant post >> How Long Does Pex Piping Last
Its insulation quality is something you can't complain about. The class A insulation shows excellent thermal performance. The foil-backed layer is a plus and works well for all duct installations.
The cotton pipe wrap insulates and cushions the heating and AC ductworks. So you get reduced vibration and noise.
It's supposed to be an inexpensive insulation option. But in practice, it's not as cost-effective as it's thought of. It requires more rolls to be used as compared to the foam insulation.
The thickness is good but not sure if it's exactly 1''. However, it should still give you a satisfactory performance.
Highlighted Features:
Natural cotton insulation.
Aluminum foil-backed.
Dimension: 3-inch x 1-inch x 25-feet.
Class A fire rating.
Standards: UL 723.
Temperature Range: 0 Degrees F – 250 Degrees F.
2. M-D Building Products 50164
A lot of the time, your pipe insulation is either too bulky or doesn't fit right on your pipes. That's why M-D made this product to solve that problem. M-D Building
Foam insulation is worth considering as an option for both hot and cold pipes. One of the foam insulation that stands out for us is brought by the M-D Building Products. Its tube pipe insulation is a perfect solution to all your minor home insulation issues.
Now don't lose heat anymore! The M-D pipe insulation shows excellent efficiency in saving energy and reducing your bills. It works amazingly well to prevent condensation on cold pipes.
This copper pipe insulation comes with self-sealing, pre-cut slits for an easy peasy installation! The self-adhesive glue should hold it well over time. But don't worry if it doesn't.
You could easily use the protective tape over the seams if you find the glue not holding up well or see it coming apart.
If you're using it on an AC pipe or other smaller units, make sure to cut it down to the size you need and simply wrap it around the pipe. The insulation seems to be made of coarse foam, which is less thick and could be more prone to tearing.
Highlighted features:
Applicable on both hot and cold pipes.
Comes with pre-cut and self-sealing slits.
Dimension: 1-Inch x 6-Feet.
Provides foam insulation.
Black finish.
3. OODLES of Noodles Pipe Insulation
Frost King is the market leader that makes the best insulation for pipes. Its pipe and duct insulation products come with different variations.
The rubber-made, tubular-shaped RS510XB/6 is an excellent option to watch out for. It's a dense and flexible foam insulator for all kinds of insulation needs.
It's made of closed-cell polyethylene foam, something you need to fight with grease, mildew, and bacteria. It prevents pipes from freezing, dripping, and sweating. You can consider it as the best insulation for cold water pipes.
This Frost King insulator increases energy efficiency to a great extent and saves you some good bucks. It shows a great heat retaining performance and is considered the best pipe insulation for hot water pipes.
The average pipe insulation might do well with the hoses having right angles and straight runs. But when it comes to the supply hose, you need something like the RS510XB/6 that bends much better. Moreover, you get them in a wide variety of sizes to fit different pipes.
The installation requires a little effort like any other self-adhesive rubber tube insulation. Its adhesion is decent, but you could use the ties or tape anytime for a better hold-up.
Highlighted features:
Made of closed-cell polyethylene rubber or foam.
Self-sealing adhesive.
High-density foam pipe insulation.
Dimension: ½-inch id x ½-inch wall x 6-feet.
Blue finish.
4. Frost King RS511XB
If you're looking for DIY pipe insulation, self-sealing adhesives make the best choice. Considering this fact, This is another best insulation for copper pipes for you.
The RS511XB/6 from Thermwell is an easy-to-install copper pipe insulation that works amazingly well with most HVAC units.
Is it pre-slit? Yes. Self-Sealing? Yes, again! Tubular Shaped? Yes!
These affirmatives say all about its ease of installation. But we know you won't buy an insulator only because it's easy to install.
The thermal performance is what matters! Don't worry; this pipe insulation from Thermwell should exceed your expectations by all money.
Now don't let your copper pipes freeze or sweat, as RS511XB/6 knows how to prevent them. It fits the pipes very well with high-quality tubing. It's thick yet pliable to get all the corners covered.
Flexibility is a key factor that makes it suitable for supply hoses. It wraps a pipe accordingly and provides great sealing with the adhesive.
You need to be careful as it's easily bendable. It could get misshaped due to mishandling!
Highlighted features:
Dimension: 3/4-inch id x 1/2-inch wall x 6-feet.
Features pre-slit, self-sealing rubber.
Flexible and bendable.
Tabular-shaped pipe insulation.
Suitable for al HVAC.
5. Thermwell Products RS511XB/6 Pipe Insulation
We have more insulation tubing for your heating pipes. Something that not only insulates but also provides high-quality cushioning to reduce noise and vibration.
Check out the URBREST insulator that works exactly as advertised. This might not be from a famous supplier, but surely from a reliable one that works well to preserve heat and save energy. Let's find out more.
You can use the URBREST pipe insulation just about anywhere. It comes with good density and closed structure providing an excellent ability for heat preservation and low thermal conductivity. If you wrap it around the pipes, they'll stay protected whether it's summer or winter.
The isolation effect of the insulator does well to keep the inside of the pipe unaffected. It includes a moisture-proof layer to prevent condensation. URBREST is also flame retardant.
So don't worry about it getting melted when exposed to fire. The non-flammable property stops the spread of the flame while keeping the smoke low.
The insulator is made of eco-friendly materials posing no threats to health and the environment. Its foam is soft, elastic, and flexible. And the texture is smooth and thick.
So you have it all to get your pipe or tubing covered from every corner. Works with a wide range of pipe materials.
One major downside is it's short of the preferred 6' length. If you need pipe insulation that's exactly 6', then it's not for you!
Highlighted features:
Flexible self-sealing rubber insulation.
Insulates hot and cold tubing.
Self-sealing design with no need for adhesive or clips.
No sweating or condensation.
6 feet long.
6. Pipe Insulation By URBEST
Frost King makes it on the list again. This time with another self-adhesive insulation — the IT30/8.
It's an easy-to-install rubber insulation tape for pipes. You can set it up in no time. This pipe insulation wrap is worth checking out for stopping the waste of energy and saving some investment!
The IT30/8 is top-quality general-purpose pipe insulation. But we find it best for insulating AC lines. Especially the ones located near walls or other tight places where there's no atmospheric control available.
And this is why we call it the best pipe insulation for crawl space and complex angles.
This rubber insulation does a great job to cut the heat loss on hot pipes. It also provides decent performance on cold pipes like preventing sweating, dripping, and condensation. So you get no more wet floors and no more frozen pipes!
The IT30/8 comes with self-adhesive tape that is sticky enough for a simple, one-step installation. This is a perfectly suitable option to insulate short runs of pipes, joints, or valves, where installing tubular insulation is nearly impossible.
It does insulate well, but when it comes to cushioning, you would want this pipe insulation foam to be a little softer and denser.
Highlighted features:
Rubber pipe insulation wrap.
Dimension: 2-inch wide x ⅛-inch thick x 30-feet.
Self-adhesive.
Black finish.
Suitable for short runs of pipes.
7. Frost King IT30/8 Rubber Insulation Tape
Wondering "where is fiberglass insulation from Frost King?" We know we kept you waiting, but it's over now with the F15XAD Fiberglass pipe insulation cover.
It makes an ideal choice for all your heating pipes and ducts. This tubular-shaped, self-sealing insulation is a highly efficient and easy-to-install option to check out.
This commercial-grade pipe insulation comes with self-sealing adhesive for easier installation. It includes reinforced foil and paper wrap to prevent airflow from the pipe exterior. That's why we think it's worth considering as the best outdoor pipe insulation.
This Frost King fiberglass insulation is suitable for pipes immediately-exiting furnace and water heater since you can't have foam insulation in such instances. Like other pipe insulations from the brand, it ensures an energy-saving thermal performance. And that saves you some good bucks!
When you unpack the package or remove the tape, do it carefully. Due to some poor packing, you might tear the paperback while peeling off the tape.
Highlighted features:
Commercial grade fiberglass insulation tube.
Compatible with high-temperature.
Self-sealing.
Dimension: ½-inch x 3-feet.
Reinforced foil and paper wrap.
8. Frost King F15XAD Pre-Slit Tubular Pipe
Want us to recommend pipe insulation, particularly for your air conditioning unit? Check out the Insulated Tube from Marshland.
This foam pipe insulation includes high-quality, denser foam that won't deform easily. It also allows you to ensure maximum heating efficiency.
Marshland insulation is a widely used option for hot and cold pipes in different household and commercial applications.
We find it excellent for ACs, but you could also use them for Solar Energy Water Piping, and Thermal Insulation across buildings and industries.
It works well with any metalized piping, including copper pipes. The inner diameter of the insulation is ideal for suction line pipes.
They fit pretty firmly. High-quality construction helps reduce the load on your air conditioning unit while saving power consumption to a great extent.
This pipe insulation may seem to be expensive. But when you consider its performance, you know it provides excellent value for money.
Highlighted features:
Foam pipe insulation.
Works well with air conditioner.
Dimension: ¼-inch id x ⅜-inch thickness x 6-feet long.
Used for both hot and cold insulation.
Black finish.
9. Marshland 1/4″ ID X 3/8″ THK Foam Heat Insulated Tube
Protecting the copper pipes during those cold, single-digit temps is really challenging. The fiberglass pipe insulations make the best choice in these conditions.
Home Intuition understands your insulation demands and brings a great option to consider. Let's find out more and see what it has to offer.
This Home Intuition product is easy to install. You can easily use it to wrap the hard-to-reach areas of your copper pipes. This foil-backed wrap takes a simple step to get all the corners of your pipe covered.
You also get the heat locked with the foil wrap. So no more loss of heat radiation on your hot water pipes.
It works well with the cold pipes as well, preventing condensation and moisture from building up. The 1-inch vapor barrier is thick enough to stop moisture leaks. So no sweats and no wet floors.
It also allows you to experience maximum heating efficiency in a faster time. Fiberglass is prone to wear and tear. So be careful while wrapping it around your pipe.
Highlighted Features:
Foil-backed fiberglass insulation wrap.
1-Inch thick vapor barrier.
Dimension: 1-inch x 3-inches x 25-feet.
Yellow color.
1 step installation.
10. Home Intuition Pipe Insulation
We have the weather stripping pipe insulation to end our list with. This rubber and polyethylene foam from M-D Products creates a seal around the heating pipes to prevent heat loss or gain.
The weatherstripping layer also protects the pipe from environmental challenges. Most of it all, this pipe insulator makes a great choice when you're looking to save energy costs to a good extent.
It comes with a pre-cut slit to make your installation way easier. You can easily cut and shape it to your needs. Although it isn't the self-adhesive option, you'd still find glue on the ends.
Once you peel off the plastic, the glue is exposed, and you can press and put them together. However, putting tape around it is always a better idea.
The foam is dense, springs back well, and allows easy handling. It blocks heat gain or loss, and you can use it on both hot and cold pipes.
This pipe insulation blocks condensation on cold pipes to prevent water damage. So it not only saves your energy cost but also prevents your resources from damages.
While the M-D pipe insulation offers great thermal performance, the lack of a self-adhesive option is a major downside of it.
Highlighted features:
Polyethylene foam.
Weather-stripping.
Dimension: ½-inch x 3-feet x 3/8-inch.
Usable on both hot and cold pipes.
Black finish.
Comparison Chart for the Top 10 Pipe Insulations
| | | | |
| --- | --- | --- | --- |
| | | | |
| | | | |
| | | | |
| | | | |
| | | | |
| Thermwell Products RS511XB | | | |
| | | | |
| | | | |
| | | | |
| | | | |
| | | | |
Different Types of Pipe Insulation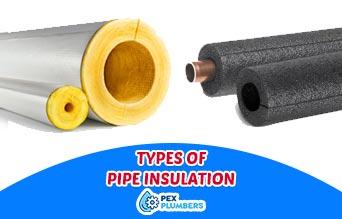 You can mainly differentiate the pipe insulators based on the materials they're made of. The most common materials to consider for home insulation are foam, rubber, and fiberglass.
So when we talk about the types of pipe insulation, we refer to three of its most common types – Foam Insulation, Rubber Insulation, and Fiberglass Insulation.
Let's discuss some of their core features below.
1. Foam Insulation
It's the most common and affordable type of insulation. Foam insulation is compatible with both hot and cold pipes. It makes the best choice if you've pipes to work in low-temperature.
This is widely used for copper and PVC pipes. It allows ease of installation and mostly comes with self-sealing adhesives. The material is fairly cheaper and costs around $1.5 per linear foot.
2. Rubber Insulation
Rubber is a versatile material and is widely used for hot and cold pipes. The best things about this insulation are its temperature range, flexibility, and low water absorption property.
It works with Copper, Iron, and PVC pipes. The elasticity of the rubber is another advantage of this insulation.
Price-wise, rubber insulation is the most cost-effective one to choose for home insulation (around $1 per linear foot).
3. Fiberglass Insulation
Fiberglass insulation makes the best choice for conserving energy as it packs more R-value per inch. While it works well with both hot and cold water pipes, fiberglass is the perfect choice to insulate pipes that transport hot water.
It's more expensive than the other two, which is around $2.50 per for 3 to 6-feet tubular pieces.
What to Look for Before Buying The Best Pipe Insulation?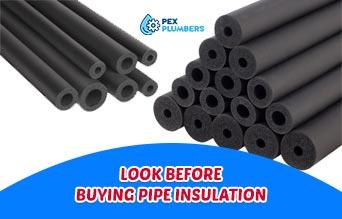 Buying the best pipe insulator is a challenging task. You need to be very sure about what you're looking for. It's only possible when you know what to consider before buying. Let's find out some of these considerable factors.
Reason for Use
Your pipe insulation mostly depends on the application you'll be using it for. Generally, you want to insulate the electrical heating pipes to prevent them from freezing.
Temperature maintenance and heat conservation are other reasons you use pipe insulation for. Pipe insulation is also a great way to reduce sweating and condensation.
So before buying your insulation, check out its features to find out if they serve your purpose. Some of these features could be heat preservation, temperature flexibility, condensation and sweat control, etc.
You can also consider this factor by asking yourself whether you want to use it for hot pipes or cold pipes?
Thickness
The thickness of the insulation is an important factor to consider. But it mostly depends on which sector you'll be using it in.
Will you use it for residential heating pipes? Or the commercial ones? For residential pipes, we recommend using 1-Inch thick pipe insulation instead of widely used ½-Inch ones. Because it can reduce the loss of heat transmission better while saving your energy bills.
For commercial buildings, the thickness of the insulation depends on the design operating temperature and Iron Pipe Size or IPS.
The more the design operating temperature and the pipe size are, the thicker the pipe insulation has to be. The thickness could range from 1-Inch to 3-Inch.
Location
The location of your pipe determines which kind of insulation do you need. You might need to use the insulation indoors or outdoors. Or you could be using it in a place where the temperature regularly drops.
In such a case, this location factor will require you to choose pipe insulation with an appropriate R-Insulation rating or R-Value. We'll talk more about the R-Value below. You also need to see if the pipe is located in any tight or hard-to-reach areas.
R-Value
It is an important parameter that measures the resistance to the flow of heat. It indicates the ability of insulation to prevent heat from moving through it. R-value is mentioned in the insulation product.
Two factors contribute to the value; one is the insulation thickness and another one is its density. You will find two pipe insulation with the same thickness but different R-values because of their different densities.
The more the R-value the better the insulation is. To prevent freezing, you have chosen a pipe with the maximum R-value rating.
Self-seal vs Tape
Based on the installation, there are two popular forms of pipe insulation available out there. The pipe wrap sheet/tapes and self-sealing tubular pipe sticks.
The pipe insulation wrap is easy to install around the pipe with tape. This is perfect to use in high heat areas like close to furnaces and water heaters. It's also suitable for pipes having many bends and turns.
The tape holds up better than the self-sealing adhesives and is more durable. It also makes a better choice for tight spaces and complex angles.
On the other hand, self-sealing one is available as self-adhesive strips and is considered to be the easiest to install. This one is also available in tubular stick with pre-slit and an adhesive.
So you can conveniently slip it around your pipes. It's considered to be the easiest to install and is widely used for home HVAC units.
How to Insulate Pipes With Pipe Insulation Like a Pro?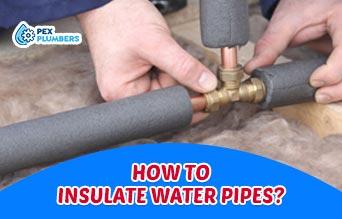 The copper pipes are widely used to distribute hot and cold water. You may have other pipes in your plumbing system that requires insulation.
If you've found the best water pipe insulation, it's time to know how to install that on your own. And like a pro! Check out the following installation steps:
1. Safety Gears:
Wear your protective glasses, gloves, and masks. You may also need a ladder to reach the pipes, particularly ones in the basements with high ceilings.
2. Clean the pipes:
To begin the installation, remove any grease or dirt from the pipe with a mild cleanser. After that, allow the pipes to dry completely. Without proper cleaning, even the pipe insulation won't work.
3. Choose Installation Style:
Once the preparations are done, you can move to unpack your pipe insulation. We assume you could be using either the pipe wrap or tubular pipe sticks.
If you're planning to insulate the pipe in a high heat area, you shouldn't be using tubular-shaped insulators. The pipe wraps make the best choices in that case.
4. Fiberglass Pipe Wrap Installation:
If you're using an insulator for pipes with many turns and bends, the fiberglass material with pipe wrap tape will make the best choice. While installing this, you need to begin by unrolling it with the foil side facing upwards.
Now slightly overlap the wrap as you go to make sure that the pipe is completely covered, even around the corners and complex angles. You don't need to wrap it too tightly. Simply secure the ends of the wrap with acrylic tape or duct tape.
5. Tubular Foam Pipe Stick Installation:
If you're planning to install tubular insulation or pipe sticks, you need to find the right size first. These insulators are found as foam pipe sticks and work well with copper and iron pipes.
Some of these pipe sticks are available with pre-slit and adhesive. So all you need to do is slip it around the pipe and seal the opening with the glue.
In the case of polyethylene foam pipe insulators, you need to use T foam connectors and elbow foam connectors to insulate the corners and complex angles.
6. Tubular Rubber Pipe Stick Installation:
You can also choose the highly flexible rubber material for the pipe sticks, especially for ACs and Refrigerators. To apply these pipe sticks, dry fit and cut them to the length of the pipes.
Then carve out spaces for valves and T-joints. Finally, secure the ends with acrylic tape or glue, whichever is available in the package.
7. Complimentary Works and Testing:
Once you've installed your desired type of pipe insulation, make sure to disconnect the garden hoses to keep the pipes working efficiently.
Use caulk to seal any holes or cracks in exterior walls and foundations near the water pipes. You can test the installation by allowing a slow trickle of water to flow through the faucets connected to pipes in unheated areas.
Frequently Asked Questions (FAQs)
Here we have provided some of the most common questions and their answers about pipe insulation.
1. How effective is pipe insulation?
Pipe insulation is very effective in the sense that it retards the loss of heat out of the system. It's quite evident as you see the rise in water temperature up to 2°F–4°F for insulated pipes compared to the uninsulated versions.
It's also effective in preventing freezing in cold pipes, which is evident from the practice.
2. What thickness of pipe insulation do I need?
The general rule of thumb is "the thicker the insulation, the less the heat loss is". If you want to protect your pipes from freezing temperature, you need to choose the thicker version. Get something not less than 19mm.
3. Is fiberglass pipe insulation flammable?
Since the fiberglass insulation is made from glass, it's considered to be a non-flammable one. So it shouldn't catch fire in normal conditions. The manufacturers also add flame-retardant adhesives and foils for better fire performance.
4. What is the difference between hot and cold insulation?
There are a few slight differences between hot and cold insulation. The most significant one is that the material in the hot insulation allows water to enter.
So that the heat can cause the moisture to evaporate. But in the cold insulation system, the water doesn't evaporate.
5. How does insulation save energy?
Insulation saves energy by creating a barrier to heat gain and loss in the roofs, ceilings, walls, and floors. So your HVAC unit doesn't have to spend more energy to keep your home cool in the summers and warm in the winters.
Final thoughts
We know it's been a long article, but we haven't bored you for sure. With some solid options for the best pipe insulation, we've made sure that you don't miss out on anything in terms of materials, ease of installation, temperature range, the scope of application, and so on.
It's been dominated by Frost King, a leading brand for home insulation. There are a few other excellent pipe insulators as well.
These options have been chosen wisely to ensure that the heat and energy in your conduction pipe aren't wasted and neither do you face any damage to your pipe due to freezing.
So buy good insulation, save the investment, and live happily!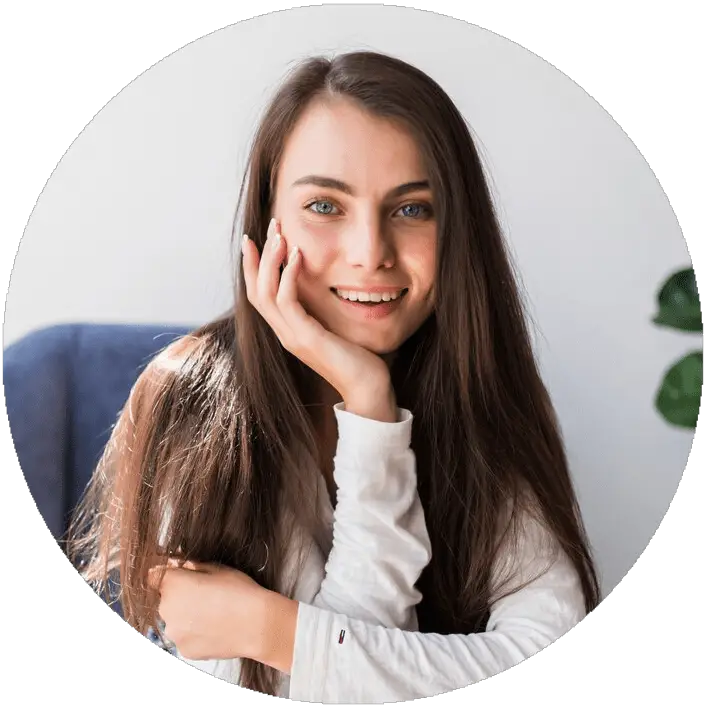 Hey! I'm Leanda Bailey. I'm here to explain every plumbing installation and repair you may have in your kitchen or bathroom. Also, I'll try to find you the best products on the market for your plumbing work.