It's no surprise that PEX pipes have replaced their metal counterparts because of the advantages they hold. It is corrosion-resistant, freeze breakage-resistant, more durable than copper, and also flexible.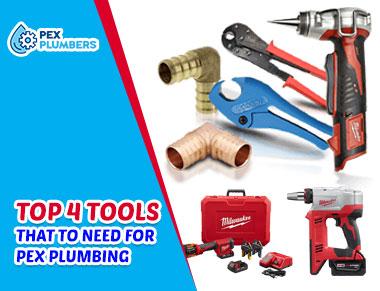 On top of that, anyone having little or no plumbing skills can install PEX pipes effortlessly!
Think of PEX tubing as a special kind of pipe that you can use to set up the water and heating systems around the house.
Since this pipe is a special one, there's no way you can use the regular tools that are lying inside the toolbox! You'll have a pretty hard time getting things done otherwise.
If you're a DIY enthusiast not have experience with PEX, it is likely you're not familiar with the tools you should use. But, no worries, you have our guide regarding the top 4 tools for PEX plumbing.
Individual Discution of Top 4 Tools for Pex Plumbing
1. PEX Cutter Tool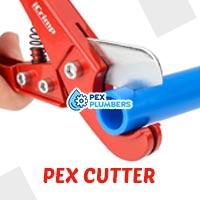 As its name suggests, a PEX cutter tool allows you to cut PEX pipes. Unlike regular tools, like a hacksaw and a pipe cutter, PEX cutters ensure clean and uniform cuts needed for connecting fittings.
Scissor-type cutters accommodate PEX pipes having a diameter of about an inch or less while ratchet-style cutters accommodate about an inch or more.
Models of either type often have a locking system that allows you to keep the mouth of the tool closed when you're not using it, thus preventing injury.
Applications
A PEX cutter tool has a sharp stainless steel blade on the top and an empty curved surface on the bottom. It usually has a spring design that facilitates easy opening and closing of the mouth.
In order to cut a pipe, you need to insert the pipe into the mouth and then apply pressure on the handles.
2. PEX Crimping Tool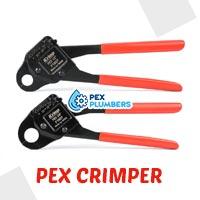 A PEX crimping tool is an essential PEX plumbing tool for securing a copper crimp ring into place. When you join a PEX pipe to a fitting, a copper crimp ring is needed to seal the joint which is only possible with the help of this crimping tool.
Apart from copper crimp rings, clamp rings are also used for sealing joints. In that case, there's another type of crimping tool that is used for pressing clamp rings into place.
Those are called ratchet-style crimping tools. Besides, some tools even let you handle both crimp rings and clamp rings in order to save you from the hassle.
Applications
A PEX crimping tool resembles that of a pair of pliers, with the exception of the jaw design. In a closed position, the jaws form a hole on the end to accommodate the diameter of the copper crimp ring.
Some crimping tools come with interchangeable jaws that let you crimp rings having diameters of an inch or less.
Ratchet-style crimping tools don't have a hole on the end. The jaws are flat for the purpose of clamping the tab of the clamp ring instead of its entire diameter.
Both types of crimping tools feature handle that, when squeezed, secure the copper or clamp ring into place.
3. PEX Crimp Ring Remover Tool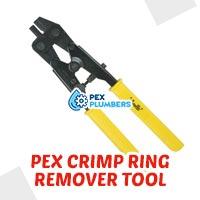 A PEX crimp ring remover tool lets you remove already installed copper crimp rings. It is essential to have this tool because you can remove a corroded crimp ring and replace it with a new one.
Also, if you've mistakenly placed the crimp ring where the joint isn't underneath, this tool comes in handy. For removing clamp rings, a ratchet-style crimping tool should be enough.
Applications
This tool features an angled top jaw and a plain bottom jaw. When you insert the bottom jaw inside a PEX pipe with the top jaw above the crimp ring, squeezing the handles of the tool will cause the ring to snap off the pipe.
As for a clamp ring, inserting the jaws of the ratchet-style crimping tool over the clamped tab and then squeezing the handles will detach the clamp ring from its place.
4. PEX Expander Tool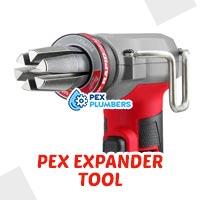 A PEX Expander tool is a must-have item for expansion-style fittings. If the diameter of a PEX pipe is equal to its fitting, it will be impossible to insert the fitting into the pipe, so a PEX expander tool expands the pipe's diameter.
Applications
A PEX expander tool resembles that of a drilling machine, but it has a longer grip handle and it uses an expansion head.
When an expansion ring is slid over the PEX pipe and the expander tool is inserted into the pipe, pressing the trigger will cause the pipe's diameter to expand.
After inserting the fitting, the pipe will slowly shrink back to its original size and then secure the fitting.
Generally, a PEX expander tool comes with interchangeable heads that allow you to stretch a PEX pipe's diameter up to an inch.
Final Word
Now you have learned about the top 4 tools for Pex plumbing, hopefully, you'll be able to replace that leaky copper pipe in the kitchen! Not only that, but you'll also save the costs of hiring a plumber!
Well, that doesn't end here because whichever tool you choose, you need to ensure its quality. Since not all brands offer excellent quality tools, we recommend you take a look at the reviews before purchasing.
When you've found the tools that have garnered appreciation from a huge number of people, you know they won't disappoint you!
Other Tool List: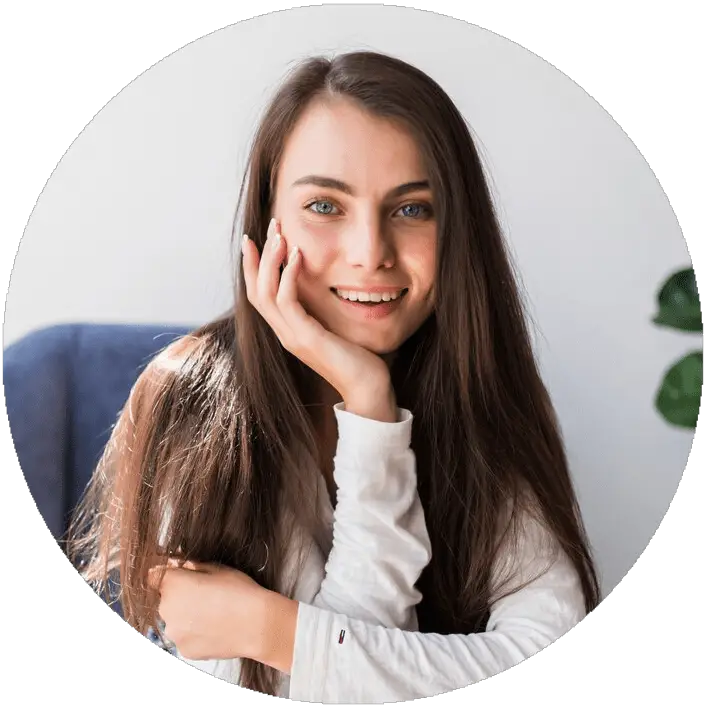 Hey! I'm Leanda Bailey. I'm here to explain every plumbing installation and repair you may have in your kitchen or bathroom. Also, I'll try to find you the best products on the market for your plumbing work.